5 MINUTE READ
The payments space is rapidly changing as more and more businesses are shifting to becoming digital and accustomed to using the internet for e-commerce. Learn key information about B2B payments in the digital age and what your business needs to do in order to stay ahead of the curve.

What are B2B payments and B2B e-commerce?
Business-to-business (B2B) transactions are those that occur between businesses, as opposed to transactions that occur between consumers and businesses (C2B). 
This type of transaction is common for the supply chain of businesses. For example, Apple engages in B2B transactions with Samsung and semiconductor-producing company Micron in order to produce the iPhone. 

B2B E-Commerce
B2B e-commerce (B2B transactions that occur online) is a growing portion of the B2B market. In 2018, the B2B e-commerce market topped $1.134 trillion, which is 12% of total US B2B sales for the year. This percentage is expected to climb to 17% by 2023. 
In fact, the B2B e-commerce market is anticipated to be the area of largest e-commerce growth from 2020 to 2025, which is largely attributed to the increasing number of tech-savvy millennials and GenZ'ers that run businesses.
borderless™ has created the ultimate payment option for B2B e-commerce. They provide an easy to use, affordable and trackable solution for businesses to make and receive payments online.

"Believe it or not, 51% of B2B payments are still made by paper check."

How are B2B payments commonly executed,  and what are the pros/cons of each method?
Technology is clearly becoming more of a central part of the B2B payments space, but payment solutions for B2B are lagging behind compared to Peer-to-Peer (P2P) solutions, like Venmo or Zelle, for several reasons such as frequency, volume and payment terms. 
Executing B2B payments digitally makes it easier for businesses to make, receive, and process payments. But, believe it or not, 51% of B2B payments are still made by paper check. This section will briefly explore the 4 most common types of B2B payments and the benefits/limitations of each.

1. Checks
This category includes both traditional, paper checks as well as electronic checks. 
As far as benefits, checks provide an easily verifiable audit trail and require no new technological processes for businesses to pay or receive checks. Checks also allow data and documents to travel along with the payments.
One limitation of paper checks is that they require payment to go through the mail, which is often slow and inefficient. Moreover, checks do not allow for B2B e-commerce transactions since payment for this growing market must be executed digitally.
Checks also are not feasible for international payments; although it is possible, sending a check internationally often results in delays in cashing the check and a currency exchange fee, and some banks don't even accept foreign checks. Moreover, in the age of COVID-19, checks are becoming a less safe version of payments as opposed to contactless payment methods.

2. Wire Transfer
Wire transfer is another common method of B2B payments which involves funds being transferred between banks through SWIFT.
The pros of businesses using wire transfer to engage in B2B transactions are that it is domestically the fastest method for funds transfer, and that it has a global reach. 
However, wire transfers are quite expensive, especially for international wires. For domestic wire transfers, the fee to send a wire is between $10 and $35 while for international wires, the average fee is $43. The bank may also charge you a commission fee and will mark-up the exchange rate by an average of 4%. 
Lastly, wire transfers are infeasible for e-commerce as the process is manual and not suited for the increasingly digital world.  You need to go through your bank (sometimes visiting the branch in person) and you never know where the funds are until they are delivered. 

3. Credit Cards
Credit cards are a convenient way for businesses to engage in B2B transactions, especially for B2B e-commerce. 
The main advantage of credit cards is that they are easy to use locally and internationally, and they enable the fast transfer of money. This can increase cash flow compared to slower methods like checks.
However, credit cards are quite expensive, both locally and internationally. The average credit card processing fee is between 2.7% and 4.4% of the value of the transaction. For B2B payments and B2B e-commerce, the transaction size is much higher than typical consumer-to-business transactions, so these fees can quickly amount to a significant amount of lost revenue.
Credit cards are also a more risky (less secure) payment method than alternatives. Credit cards have about a 5% failure rate due to credit card expiry and cancellation, which is one of the highest failure rates of any kind of payment method. 

4. Electronic Bank Transfer (ACH Direct Debit)
Electronic bank transfer, or ACH direct debit, is a fourth method of B2B payments that enables the digital transfer of funds directly between businesses' bank accounts. For a comprehensive explanation of this payment method, check out our blog post about direct debit. 
Direct debit is one of the safest and most reliable means of funds transfer. Direct debit transfers are characterized by low fees and greater security since there are no intermediaries and your bank account information is protected by the law.
However, ACH is limited by its ability to reach internationally, the manual bank processes to execute them, and its transfer speed time, which is longer than wire transfer but shorter than checks.
All four of these payment methods represent different ways for businesses to engage in ecommerce and other transactions with other businesses. There are pros and cons to each method that make the path forward for businesses unclear, as it is complicated to navigate the B2B payments space. Until now.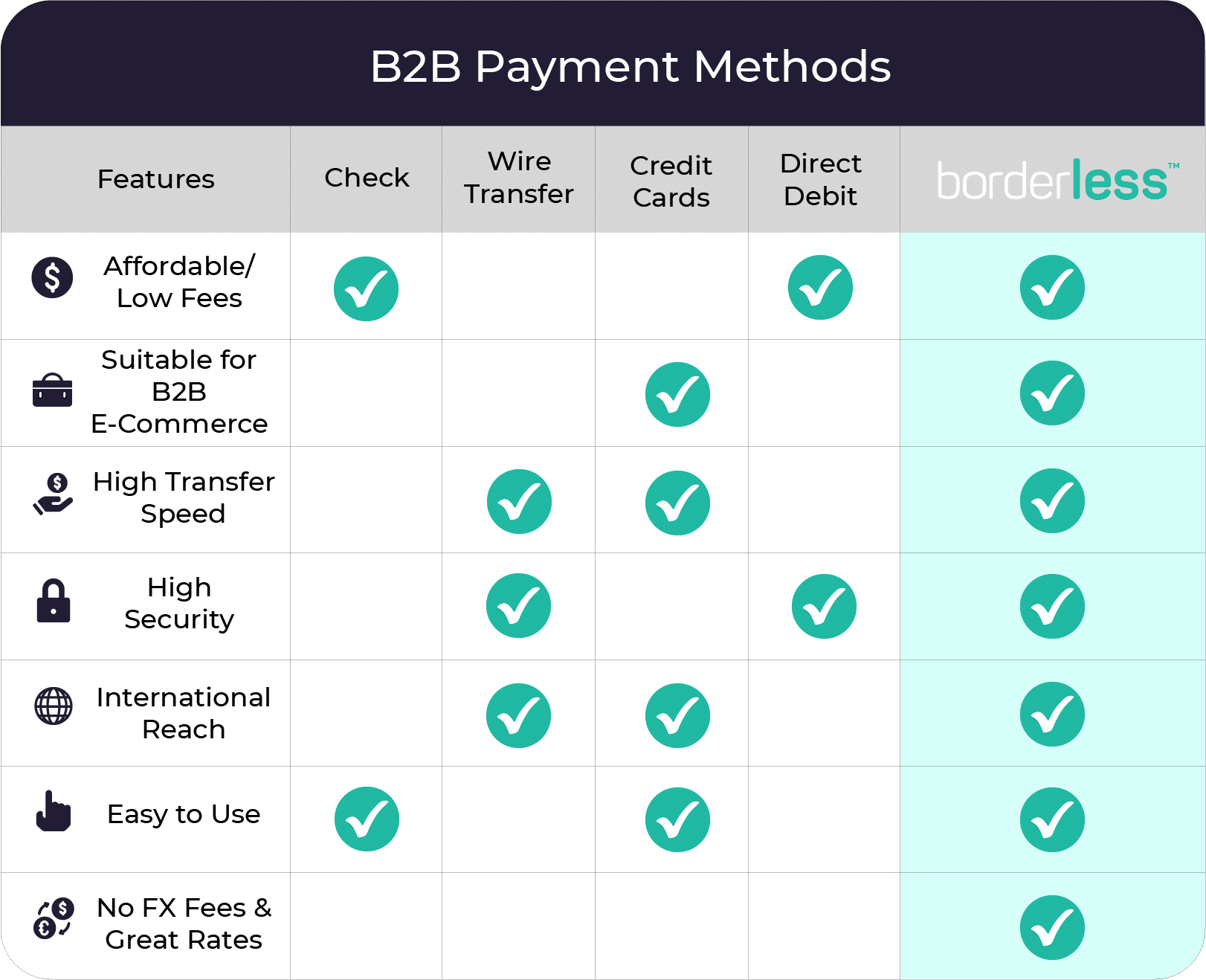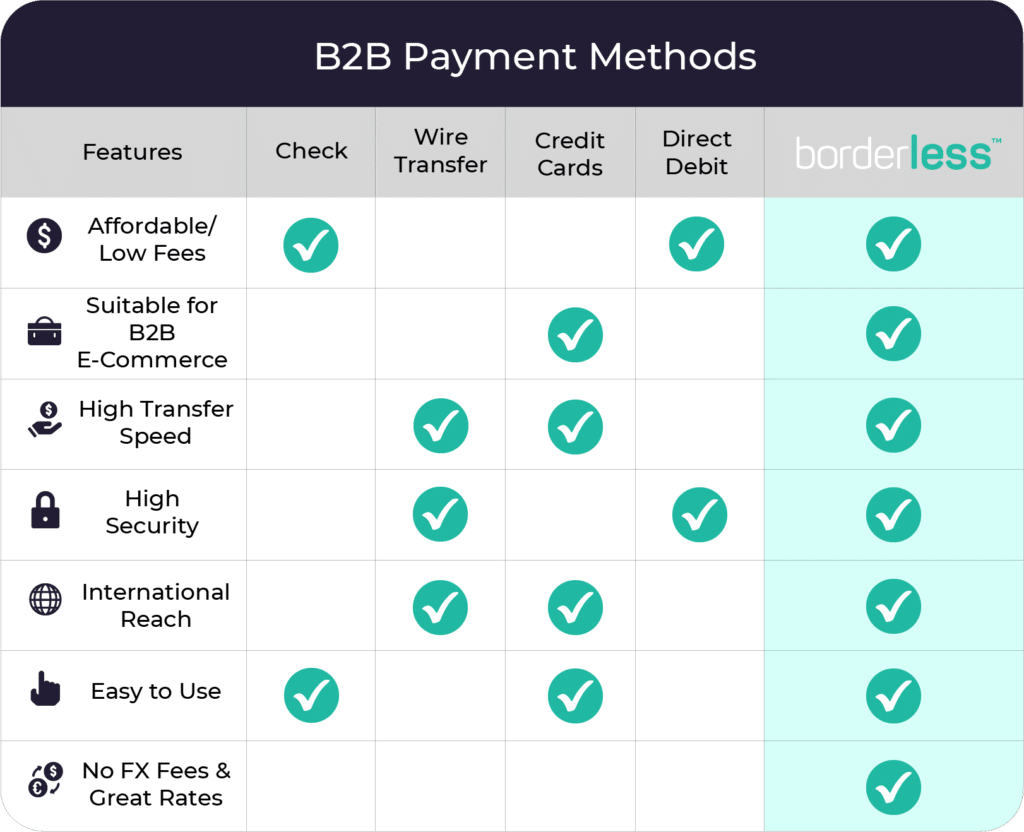 How does borderless™ facilitate B2B payments, and why is it a good option for my business?
borderless™ is an international and local direct debit solution that enables seamless and affordable B2B transactions.
As a direct debit solution, we take advantage of the benefits of this payment method (low fees and high security) and have improved upon its limitations by creating a global network of financial institutions that enables the transfer of money efficiently and quickly around the world.

We have created a new solution that we believe is the ultimate B2B payments platform geared towards the future: B2B e-commerce.
Instead of dealing with the hassle of mailing paper checks, the high processing fees of credit cards, or the high cost of sending/receiving wire transfers, borderless™ provides your business a simple, secure, and affordable way to make and receive payments. 
We have combined the best features of each method without their limitations such as the ease of use of credit cards, the low cost of ACH transfers alongside the security and tracking that B2B payments need. 

Tiered and Capped Pricing 

Local B2B Transactions:
borderless™ offers tiered pricing for local B2B transactions, with rates of 1% with a max fee of $5 for the first $2,000 plus a 0.1% fee on any amount above $2,000. 

International B2B Transactions:
For international B2B transactions, borderless™ offers a rate of just 2%, with a max fee of $200. 
Overally, our pricing is much more affordable than Stripe or PayPal, which charge fees of up to 8.9%. We have no setup fees, monthly fees, or hidden fees. You only pay when you get paid.

Ease of Use & Flexibility
borderless™ offers multiple ways to collect from a business depending on the complexity of its model. It starts with no integration such as payments links, emails, a PayMe™ Page (a no-code gateway) to a fully integrated payment gateway for e-commerce. We offer businesses the ability to checkout with one-click global payments from anywhere.

Borderless does not require a contract to use, businesses can use borderless as a supplementary payment method to increase conversion rates.

Borderless is available for users of all skill levels when it comes to programming experience. Unlike more complicated payment processors like Stripe, integrating borderless with your website is simple and fast, which will allow any business to engage in B2B e-commerce more easily.

Payment Tracking & Notifications
Our payment tracking feature allows businesses to have complete transparency over the payment process. You can track a payment like a package, knowing when your customer paid and when will the funds arrive with our estimated time of arrival. This feature gives your business the control it needs to better manage liquidity. 

This feature reduces needless administration work as less reconciliation and  back-and-forth is needed between the two businesses. There is clear visibility of who paid you and when, making borderless an easier and less time-consuming choice for your business.

Security 
borderless™ uses bank-grade security protocols and highly sophisticated data encryption tools to keep your information and transactions secured. Enter information once and never share it with anyone again.

borderless™ does not store your funds, we just transfer the funds to their intended recipient's bank where they are securely stored and insured. borderless partners with a financial institution that is secure and regulated in over 180 countries.

Overall, B2B payments and e-commerce are much more feasible with no integration work, low and capped pricing, a flexible and intuitive user experience, payment tracking and secure payments,  which borderless™ uniquely provides compared to other payment solutions. 
By switching to borderless™, you and your business will be able to save money and time and focus more on what matters to you. Check out our Savings Calculator to learn exactly how much you could save with us!
Sign up today and start engaging in faster, more secure, and more affordable B2B transactions in just minutes. 
Go borderless.