6 MINUTE READ

Read this post to learn more about borderless™ and Stripe, and how these two payment platforms compare.


The Online Payment Landscape: borderless™ and Stripe
Are you trying to decide which payment processor to use for your business?
As the world becomes more reliant on technology, making and receiving online payments simply and cost-effectively is becoming more and more important for individuals and businesses worldwide.
Two popular online payment processors that allow businesses to complete these international and local money transfers are borderless™ and Stripe. The right online payment processor can give your business a competitive edge by saving you money and time. So which one is right for your business?
In this blog, we will discuss the similarities and differences between borderless™ and Stripe, especially relating to pricing, international payments, cards versus direct debit, types of accounts, and ease of use for business owners and their customers.
By the end, you will see why many companies are adding borderless™ as an alternative payment method to credit cards, and why your business should too.

What exactly do borderless™ and Stripe do?
borderless™ is an international and local direct debit solution (i.e. global ACH) facilitating money transfers directly between bank accounts for both individuals and businesses. It is an alternative payment method (APM) to credit cards, operating as a payment processor for business-to-business and consumer-to-business transactions.
Stripe is a tech company that provides a payment platform that allows businesses to accept and make payments, with the specialty of accepting credit cards online. In addition to this payment platform, Stripe offers its users various applications that help businesses manage revenue, prevent fraud, and expand internationally.
In a nutshell, while both companies are payment processors, borderless™ focuses on facilitating bank payments while Stripe focuses on card payments.

Who uses borderless™ and Stripe and why?
Many businesses use payment platforms such as the ones offered by borderless™ and Stripe to collect payments on their websites. These businesses come from many industries, including:
Travel & hospitality
Shipping, logistics and fulfillment
Software
Education
E-commerce
Online payments, especially for e-commerce, have been mostly dominated by credit cards. However, recent trends show that millennials are ditching credit cards due to the high debt burden they carry and by 2021, bank transfers will be the second most popular APM for ecommerce transactions.
As a business owner, it is beneficial to offer both card and bank payment methods to your customers, especially for e-commerce, in order to capture all of your target audience. In fact, when used together, it can increase your business' conversion rates by over 30%! (conversion rates are the rates of visitors to your business site who become paying customers).
So now that you understand the basics of the services that borderless™ and Stripe offer, what makes these two companies and products different?


5 Key Differences

1. Pricing
One of the primary differences between borderless™ and Stripe is the cost of local and international payments. Since borderless™ uses more efficient payment rails than Stripe, borderless™ is able to offer its services at a much more affordable rate, saving you money.
Local Payments
For local payments, Stripe charges 2.9%+30c per transaction, with no fee cap. On the other hand, borderless™ On the other hand, borderless™ charges only 1% plus a flat fee of $0.30, with capped fees of $50.
For example, for a $5,000 payment the processing fee would be $145.30 using Stripe, whereas using borderless™, the fee would be $50. That is a 67% cost-savings allowing you to keep nearly three times more of your hard-earned money. 
For high value payments, borderless™ is a much more economical choice as capped fees can provide significant savings versus cards.
borderless™ offers even more affordable rates for business to business (B2B) transactions; it is 0.1% with a capped fee of $15 USD. For up to date pricing click here.
International Payments
For international payments, Stripe charges 3.9%+30c per transaction and if a currency conversion is required, then Stripe charges an additional 1% fee, for a total rate of 4.9%+30c. Moreover, Stripe's currency exchange rate is above the daily mid-market rate (the average of the price at which people are buying and selling the currency).
On the other hand, borderless™ charges just 2%+30c per transaction, with a capped fee of $200. And unlike Stripe, the currency conversion is included with a better exchange rate than most banks or PayPal.
For example, if a Canadian business wanted to receive a $7,000 payment from an American business, Stripe would charge it nearly 5% ($343.30), while borderless™ would charge just 2% ($140.30).
The bottom line: for businesses that regularly receive international payments, Stripe's high fees can quickly add up and become a burden on both small and large businesses.

2. Getting Started & Ease of Use
borderless™ and Stripe both enable businesses to receive payments on their payment platforms including their website so that clients can easily engage in e-commerce. However, the setup process for the two companies is quite different.
Stripe's services are geared more towards developers, meaning you have to have programming/coding experience to integrate Stripe's solution. They have an open API with extensive documentation making it a customizable system. This characteristic of Stripe may be beneficial to your business, due to various business features that Stripe offers, including Sigma (custom reports) and Atlas (startup incorporation).
However, integrating Stripe requires a developer and takes between two full days and a full week, depending on their experience. Not all business owners have such a technical background or have the funds/time to hire a programmer for this complicated project. At borderless™, we believe that all dreamers can and should follow their passions and payments should not hold you back.
borderless™ is accessible and immediately usable by all, regardless of programming experience. Creating an account is easy, fast, and intuitive; and upon signing up, you get a PayMe™ page right away (which is a no-code payment gateway). This page can also easily be connected to a scannable QR code allowing for contactless payments.



That is not to say that borderless™ does not allow developers to use their coding experience to enhance their websites. With borderless™, the integration of the borderless™ solution would take a developer less than an hour. For example, at the average annual salary of $100,000 for a software engineer, integrating borderless™ would save you 29 working hours and a cost of over $1,300 vs. Stripe. That is a significant savings in capital and time!
Overall, borderless™ products are designed for everyone, including developers and non-technical dreamers, providing a simpler user experience.

3. Security
As stated earlier, Stripe is a credit-focused platform, while borderless™ is a direct debit (global ACH) platform. These two types of payment methods are quite different when it comes to security, fraud, and failed payments.
An important aspect of security is failure rates, i.e. the percentage of payments that fail to go through successfully. Credit cards have about a 5% failure rate due to credit card expiry and cancellation, while direct debit has less than a 1% failure rate with a service like borderless™, which improves customer retention rates.
Moreover, direct debit applications like borderless™ offer a more secure payment method when it comes to fraudulent transactions as bank accounts can't be "cloned" like credit cards.
Ultimately, in many circumstances, direct debit can offer a safer and more secure payment solution for businesses around the world.

4. Hidden Fees
Lastly, borderless™ and Stripe have quite different policies regarding fees in addition to the fee you pay when you receive a payment.
Stripe charges a monthly fee of $2 per active account per month. Stripe also charges a fee of 0.25% on all payout volume (in addition to the 2.9% + 30 cents per transaction). Payout volume refers to the funds sent to a connected bank account or debit card. Furthermore, Stripe charges a fee of 1.5% for any account debits that are not associated with a transaction.
With borderless™, there are no hidden or monthly fees. You only pay when you get paid, and accounts are free to create and maintain.
We don't charge extra fees because we believe that business owners shouldn't need to worry about extra operational costs. Our mission is to empower dreamers to follow opportunity anywhere it takes them.

5. Fast Bank Checkouts
A final key difference between borderless™ and Stripe is that borderless™ enables your customers to easily pay with their bank without signing up for an account.
While Stripe offers the ability for one-time checkouts, customers need to enter their bank account info manually, unlike with borderless™ where you just need to sign in with your bank.
In addition, Stripe requires more development time to configure ACH bank payments, as compared to borderless™' easy integration with your website. Moreover, Stripe's one-time checkout option is only available for card payments, and their ACH capability is only available for local payments in the US.
With borderless™, easy One-Time bank checkouts are now possible, which enables your customers to checkout more conveniently while saving you up to 70% on payment processing fees vs Stripe.

This is just the latest way that the borderless™ team is committed to saving you money and keeping you and your money safe with the highest privacy and security standards.

Final Thoughts
Though there are many more differences* between borderless™ and Stripe, this blog post has discussed a few core reasons why borderless™ surpasses Stripe in the areas where our services overlap: lower fees, easier use and integration, security and no hidden fees.
Using borderless™ does not mean you need to change your payment processor. It is important to remember that borderless™ and Stripe are not mutually exclusive; in fact, we offer complementary services. You can integrate both payment processors to capture both the credit card-focused audience with Stripe and the bank payment audience with borderless™, increasing your conversions.
Ready to get ahead? Create your borderless™ account today and experience global bank payments for yourself (Use code: GETSTARTED21). Time for peace of mind with simple, cost-effective, and secure local and international payments.
Get borderless.
*To learn more about the differences between borderless™ and Stripe, refer to the borderless™ vs. Stripe at a Glance chart below.

General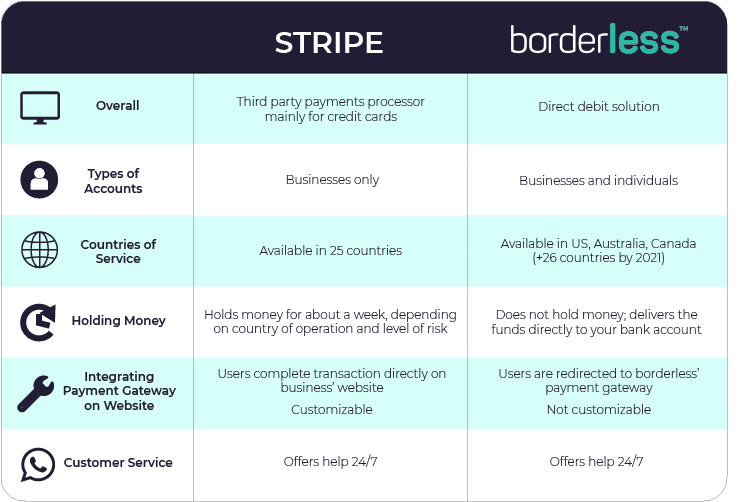 Fees and Pricing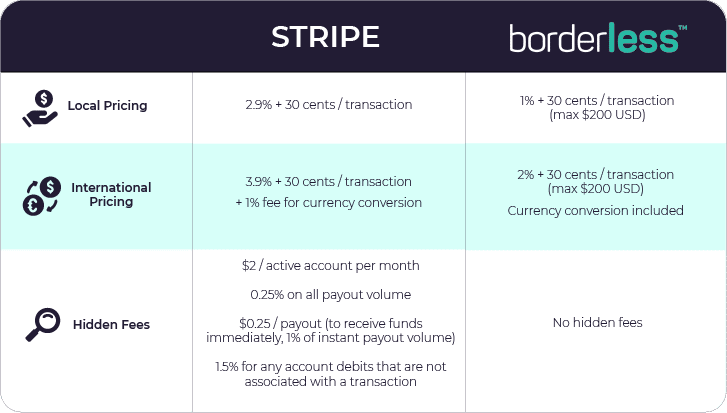 Payments