6 MINUTE READ
Learn more about borderless™ and bill.com. Find out how these two international payments solutions compare and determine the right solution for you and your business.

borderless™ and bill.com
borderless™ is a global bank payment solution that makes business payments fast, affordable, and secure for businesses of all sizes. 
bill.com is an online financial services provider, commonly used by accountants, that aims to "harness technology to streamline your payments process." bill.com also provides payment capabilities for businesses, including ACH, virtual cards, and wire transfers.
Wondering how we are similar? How we are different? Which one is the right solution for your business?
We'll review these two services in a number of key categories, including pricing, security, transfer time, types of transfers allowed, and more.
You may also check out our blog series to learn how borderless™ compares to other payment processing solutions like PayPal, Stripe, and Wise (formerly TransferWise).

Similarities Between borderless™ and bill.com

One Payment Process for Domestic & International Payments
Many other payment methods require two separate payment systems for making international payments as compared to domestic payments.
But both borderless™ and bill.com allow users to make domestic and international payments on the same platform. That is not to say, however, that both platforms are equally simple and straightforward, as we will discuss below.

Fast Transfer Time
When making payments with both borderless™ and bill.com, your funds will arrive at their destination within 2-3 business days.
Both solutions are committed to transferring your money in a secure and efficient manner.

Payment Tracking 
Both borderless™ and bill.com allow you to track your payments in real-time so you always know where your funds are.
In contrast to some popular banks, both solutions provide access to payment tracking for no additional fee.

Mass Payments
Both borderless™ and bill.com allow you to simplify your payment process by making several payments at once. The main difference is that borderless™ allows for mass payouts via CSV and API including the dashboard.
Check out our blog post about our Mass Payouts feature to learn more about how you can make multiple payments at once using borderless™!

6 Key Differences Between borderless™ and bill.com

1. Types of Payments/Transfers Supported
borderless™ is a direct bank-to-bank payment processor that facilitates direct debit (ACH) payments for both domestic and international transactions.
bill.com facilitates payments via credit card, direct debit (ACH), and wire transfer. Importantly, unlike the borderless™ global ACH platform, bill.com only utilizes international wire transfers for international payments.

2. Monthly Fees
There are a number of subscription options available on bill.com, but each comes with a hefty price tag.
This ranges from the "Essentials" option (the cheapest option for bill.com), which costs $39 per user per month, to the "Corporate" option, which costs $69 per user per month. For a company with a small finance team of 3 to 5 people, you could be paying anywhere between $1,404-$2,340 for the Essentials plan and $2,484-$4,1,40 for the Corporate plan. Every year.
On the other hand, borderless™ does not charge monthly fees, annual fees, signup fees, or any hidden fees. With our pay-as-you-go pricing, you only pay when you get paid. This is automatically a savings for your company up to $4,140 per year.

3. Currency Conversion and Fee Transparency
borderless™ does not charge currency conversion fees and provides foreign exchange rates close to the mid-market rate. Our foreign exchange conversion is always included in our low, affordable rates.
With bill.com however, the currency conversion is not included. They charge an additional currency conversion fee and are not transparent about their rates. This can be costly to your business as they may mark up rates by a few percentage points. bill.com's currency conversion fees are not available on their website.
With borderless™ you know the exact exchange rate prior to any payment. Our rates refresh every 30 seconds to give users the best possible exchange rate.

4. Pricing
International wires that are sent with bill.com in USD cost $9.99 per transaction. bill.com does not charge an international wire transfer fee, but does have an opaque currency conversion fee (as discussed in the previous section). 
bill.com is not transparent about these fees, which may result in an unpleasant surprise for your business' bottom line when making an international payment.
On the other hand, borderless™ provides better exchange rates and has transparent low fees. borderless™ can save you hundreds with foreign exchange rates that are close to the mid-market rate. For both business-to-business (B2B) and personal-to-business (P2B) international payments, borderless™ charges a 2% fee that is capped at $30 USD or equivalent.
This cap is extremely helpful for payments larger than $1,500-$2,000 where the fee is fixed unlike other solutions that have uncapped fees.
Check out the borderless™ pricing page for more information.

5. Ease of Use
Making and requesting payments with borderless™ is simple and intuitive, with one payment process for both domestic and international payments.
Just sign in with your bank account, choose the recipient, enter the amount, and pay. No need to enter sensitive banking information.
The borderless™ dashboard allows you to see all of your payments in one place. It also has a powerful search feature that allows you to filter your payments. 
bill.com is more complex. For international payments, you must enter the vendor's address, bank location, currency, and bank information. Then, you must create an international bill where the currency conversion fees are displayed. Only then are you able to pay and sync to your accounting software.
Domestic payments with bill.com aren't any easier. To complete payments, the organization requesting a payment needs to get four key bank account details from the other party involved-whether they're sending or receiving funds: (1) the name of the financial institution (bank or credit union) where funds are being sent, (2) the type of account at that bank (checking or savings), (3) the bank's ABA routing number, and (4) the recipient's account number.
Overall, borderless™ offers a much more user-friendly and intuitive experience than bill.com.

6. International Payment Capabilities
Lastly, while borderless™ allows you to collect and make international payments, bill.com only has international payments feature for payables, not receivables.

Final Thoughts
borderless™ and bill.com are two possible solutions for making and accepting international business payments. The differences outlined above demonstrate why we believe that our solution is best for you and your business.
borderless™ is created by dreamers, for dreamers. That's why we care about what matters most to your company: your bottom line, ease of use, and innovative features to boost your efficiency. 
Have specific questions about your business? Want to migrate from bill.com? Talk to one of our payments experts today or email sales@getborderless.com.
It's time for peace of mind with simple, affordable, and secure payments. 
Get borderless.
For more information about specific differences between borderless™ and bill.com, check out our helpful comparative charts below.

General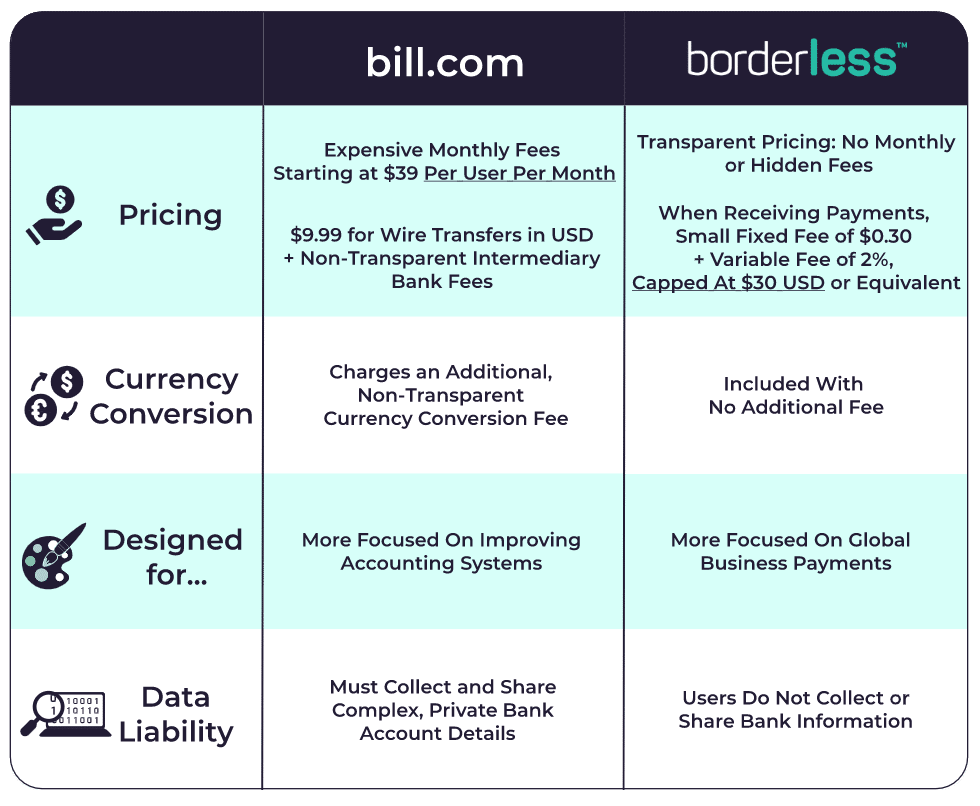 Payments & Transfers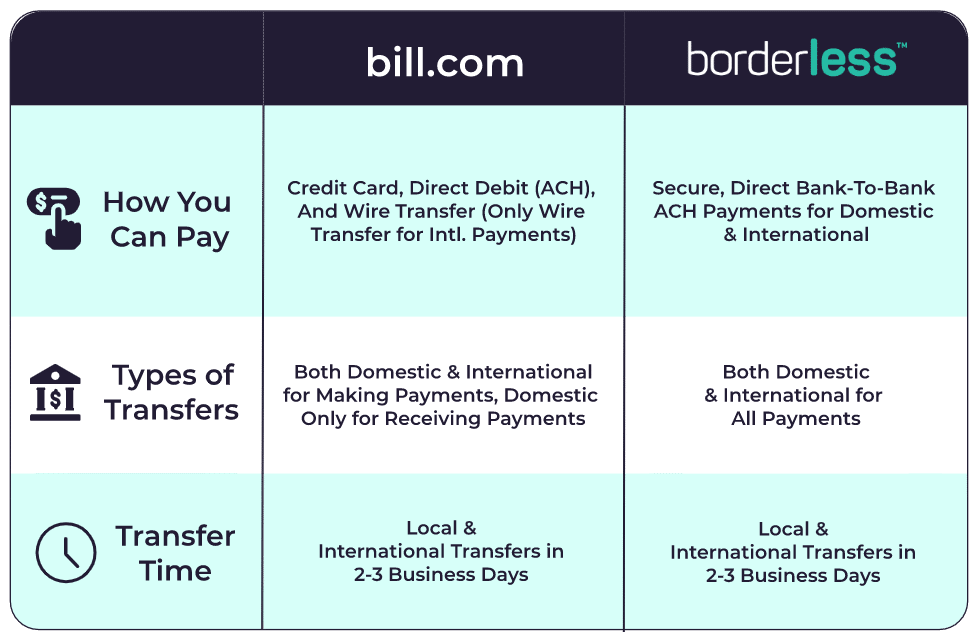 Capabilities