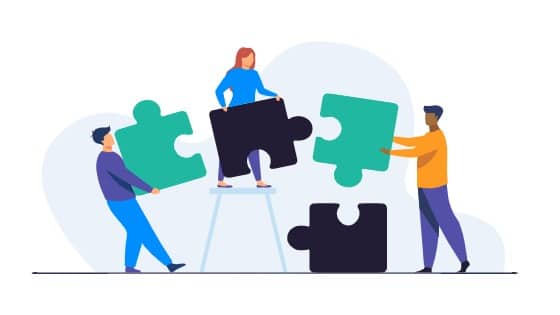 In an earlier post, we discussed the major differences between Stipe and borderless. Check it out here. Today we'll uncover how you can use both companies' strengths together for an easy, well organized flow for BOTH collections and pay-out.
Stripe is one of the most known payment processors used today. Stripe is a tech company that provides a payment platform that allows businesses to accept and make payments, with the specialty of accepting credit cards online. There are many things that make Stripe a great option from its collections platform to fraud prevention however where Stripe falls short is on global coverage and payouts to vendors and individuals. That's where borderless comes in!
Why Integrate borderless with Stripe?

Stripe is the credit card collection API and borderless is the Payout API. Where Stripe falls short, borderless compliments.
Payouts:
While Stripe Connect may advertise that it can collect in 135+ currencies, they can only make payouts to about 50 countries currently. Utilizing Stripe for collections while integrating borderless to handle payouts is a use case many of our current clients use. 
borderless is able to make payments to over 120+ countries with a single API. This is where we encourage our clients to keep using Stripe for collections as that is the company's strength while we use borderless' strength of payouts.
Fees:
Stripes fees were a little unclear. They claim no hidden fees however, different pages on their website show varying prices and fees. 
borderless prides itself on being simple and transparent when it comes to pricing. We also offer flexible solutions ranging from B2C to B2B along with a dashboard or API. 
Take a look below at our direct comparison on Pay-As-You-Go Pricing.
Transaction Type
borderless 
Stripe
Local (Same country or SEPA region)
Paying Businesses:
0.1%+30c per transaction capped at $15

Paying individuals:
1% + 30c per transaction capped at $50
.25%+25c per transaction with no fee cap
International (Including FX conversion)
2%+30c per transaction, with a capped fee of $30
Ranges per country from 2.25% to 3.25% +25c per transaction with no fee cap
Active User per Month Fee
$0
$2 per user
As you can see, borderless is able to offer flexible and dynamic pricing depending on the customer's situation. We also offer monthly custom API packages with a flat fee per transaction as low as $1. Contact our sales team to learn more.
Speed to market:
borderless' API can be integrated in less than a week unlike the average 2 weeks of Stripe. Our API also enables access to 1 or 100+ markets in one integration without additional development. 
borderless also offers a modern approach on collecting sensitive banking information. Of course we offer our traditional method, by manually entering in every new end user you onboard but we have also introduced our @handle system. Think of it as a Twitter or Instagram account. All you have to do is instruct the new end user to sign up to borderless and create an account. Once they do this, borderless automatically generates a handle for them to supply you with. We store all of their banking information for you, reducing your date liability and give them access to make changes or updates.
Last but not least, one of the biggest perks of using borderless is we give you the capability to pay anyone, even non borderless users.
UI:
As the world we know continues to develop and expand into more of a remote culture, online sales and transactions are skyrocketing. Finding a payments platform that not only has all the right tools but an intuitive interface is something that sometimes goes under the radar. From conversations with current customers to reviews online, Stripe users constantly mention some difficulty with the interface. Many would say it is designed for a developer rather than your everyday business man or woman.
borderless has created its dashboard with our less tech savvy friends in mind while providing the tools needed for developers to accomplish the same tasks via API. Keeping our menu bar easy to navigate allows for a natural flow from onboarding a contact to making mass payouts.
One of our most liked products is our multi-currency balances. borderless currently has 12+ currencies where clients can receive, hold and exchange funds directly on the platform. These balances are actually where we can enable Stripe Connect to transfer the funds to but well dive into that below.
Some features to highlight here are our Group Payouts, CVS file upload and our reconciliation field. borderless specifically designed its description field to hold up to 60 characters (vs Stripe's 9 characters) to help with easy reconciliation for not only the end user but for internal teams as well.
Our Group Payouts and CVS file upload make it easy to make mass payouts. Upload our CVS template right from your excel dock or enter your end users into a mass payout. You'll be able to make payouts via dashboard(up to 50 users) or API(up to 5,000 users) in one click.
How Does the Integration Work?
 So what does a Stripe and borderless workflow look like? Borderless users are able to collect payments from customers to making payouts to end users in 2 simple steps. Take a look below.
Step 1.
Link your Stripe Connect account to your borderless business account.
borderless has multi-currency balances you can receive, hold and exchange funds into. We issue specific wire details per balance and you can schedule a payout to the wire information provided. This allows for the funds to flow directly from your customers hands through Stripe into borderless eliminating the extra steps of transferring to and from bank accounts.
Step 2.
Issue a payout from borderless directly to your end users bank account.
And that's it!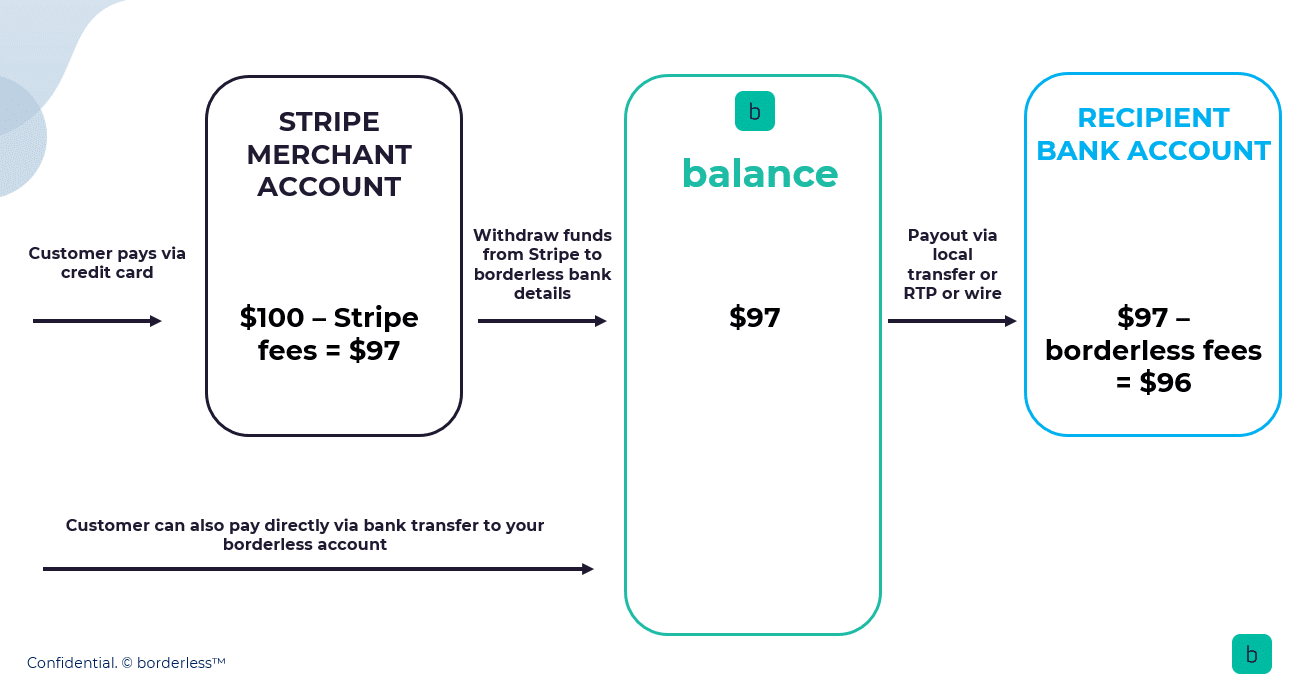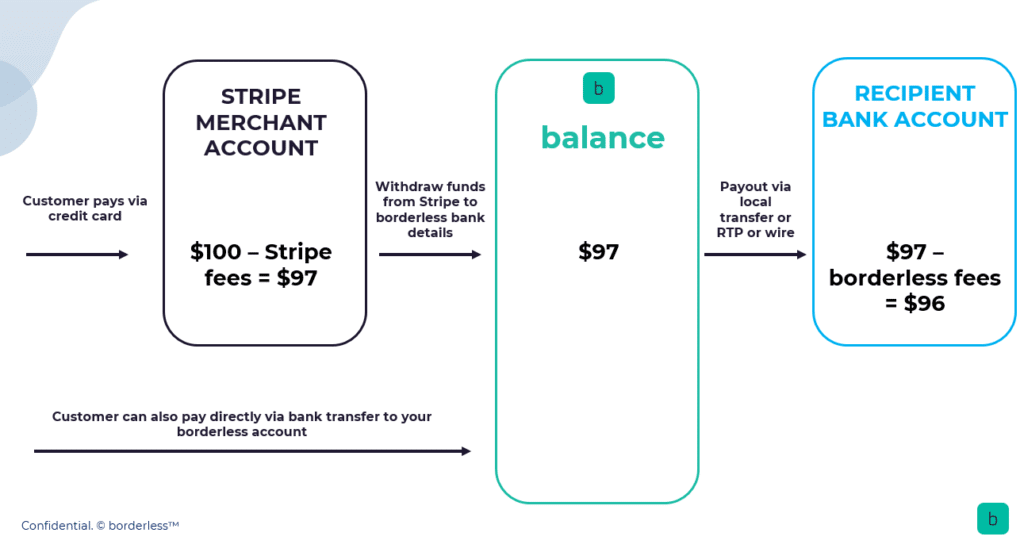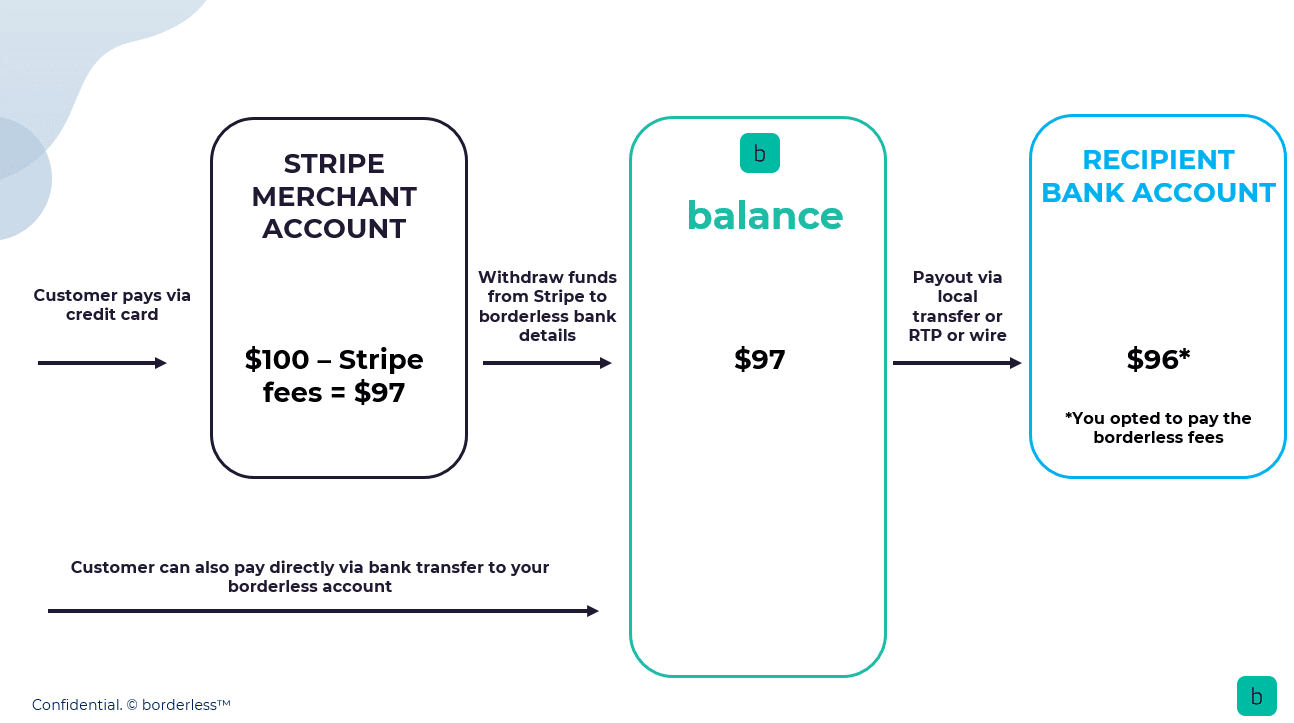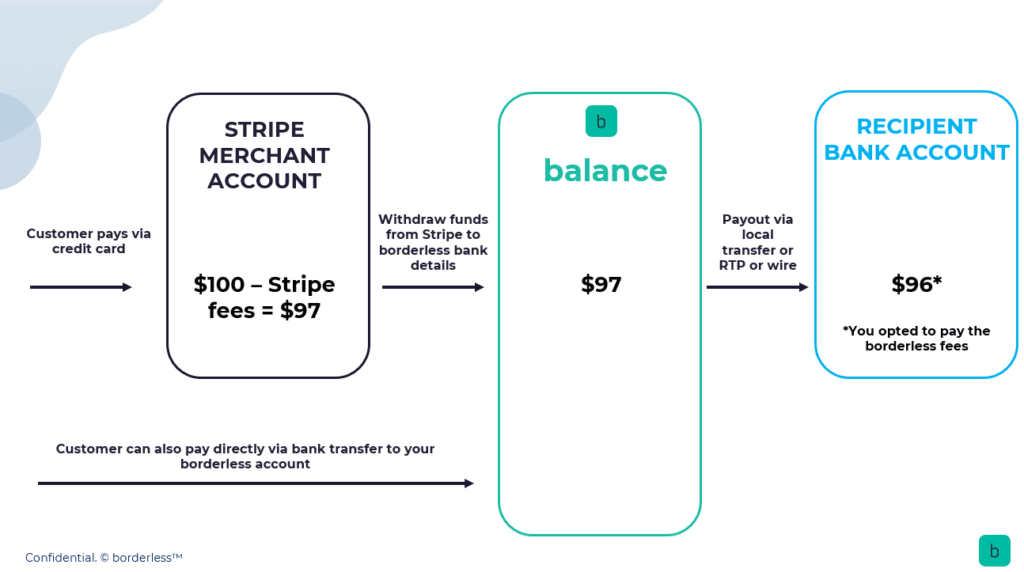 Use Case:
So who would be the ideal candidate for an integration like this?
Any B2B or B2C company would benefit from this solution. However our main target with this integration are online marketplaces. Specifically a two-sided marketplace catering to freelancers, content creators, goods and services, contractors etc. As the world continues to develop into a more remote world connecting "buyers and sellers" across borders, solutions like this are a necessity. Check out our recent blog on the rise of online marketplaces.
Conclusion:
In a perfect world there would be a payment processor that knocks both collections and payouts out of the park. Unfortunately, that is yet to come. We are on calls daily where our customers utilize Stripe along with other collections platforms for their collections but are still searching for a platform to fill in where Stripe falls short.

If you're struggling with some of the issues mentioned above contact our sales team to set up a call and see how borderless can help your business!