2 MINUTE READ
Automating international payments can help you save a lot of time and money, but you cannot automate international wire transfers. Read on to learn about how you can automate international payments with the help of payment processors like borderless™.

Can you automate international wire transfers?
Although you can make and receive one-time international wire transfers, you cannot automate international wire transfers without the help of third party payment processors or your bank. Even that automation still requires a verification every time a wire is about to be sent out.
Most businesses make international payments through wire transfer because receiving international payments through credit cards prove to be more expensive, while direct debit is limited in its international reach.

Why not?
You cannot automate wire transfers because they are "push payments," meaning only the payor can initiate transfer of money from their bank account into the recipient's bank account.
In order to automate payments, however, the payee should be able to "pull," or withdraw funds out of the payor's bank account. Because wire transfer is only a push payment, businesses cannot automate payments with wire transfers.
This can be detrimental to international membership or subscription-based businesses, or any businesses that accept periodic, recurring payments from international clients.
There are, however, tools that businesses can use to automate international payments.

Tools to truly automate your international payments
In order to automate payments, you need to use alternative payment methods that are able to "pull" funds out of the payor's bank account. An example is direct debit.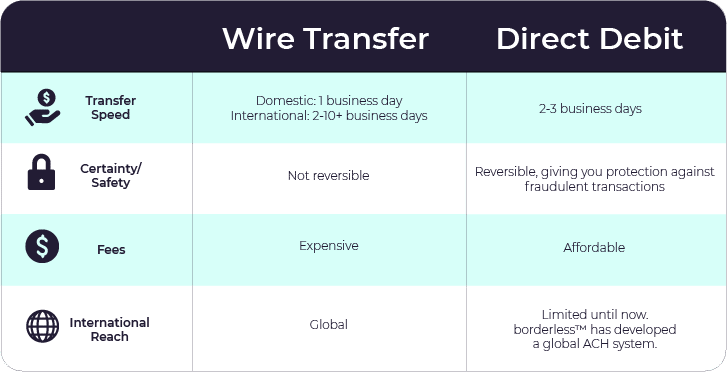 Direct debit, conducted via the ACH network, allows payors to authorize merchants to pull money out of their bank accounts. Automating payments is possible with direct debit because once the payor has authorized merchants to pull money, merchants have the authority to do so for all future payments until the term is terminated by the payor.
In order to automate payments using direct debit, you need the help of payment processors that automates the process for you. However, direct debit is limited in its international reach and is only feasible to local payments.. Until now!

Introducing borderless™, the international direct debit solution
You can automate your international payments using borderless™, the first US-based local and international direct debit, based on a pull method that allows you to automate local and international recurring payments.
Automating international payments with borderless™ takes only three easy steps:

1. Click on the recurring payments button on your borderless™ dashboard.

2. Input the payor's email address (or their unique borderless ™ handle if they have a borderless ™ account) and enter an amount. The amount can be in your home currency or theirs.

3. Set the frequency of your payments, and you're done!

You can also create plans for recurring subscriptions payments where your clients can simply add their banking information and opt-in. You will be debiting their account anywhere in the world for a fraction of the cost of credit cards and without any card expiry or failed payments.
Plus, you can view and manage all of your incoming and past recurring payments on your dashboard.
Here are additional reasons why borderless ™ is the right option for automating international payments.
No contract, no monthly fees and getting started takes minutes.

FX rates close to the mid-market average saving you money.

No fees for currency exchange.

No fees for recurring payments.

More affordable than credit cards and most wire transfers, with rates at 1% and capped fees for international transactions.

Secure & private with bank-grade security protocols and highly sophisticated data encryption tools that keep you banking information safe.

Check out our calculator tool to calculate how much money you can save with borderless™!
Get started today with code GETSTARTED21 . No monthly fees. No set up fees. No hassle. Still not convinced? Book a free demo with us here!
Start automating your international payments, so that you can focus on what matters most for your business.
Get borderless.