Over the past few years, online marketplaces and influencer marketings have gained a prevalent role in e-commerce. However, many are unaware of how these industries affect the global economy. In this blog post, we are going to explore the impacts of these two industries and how borderless improves their payment processes.
borderless Payment Solution: The Future of Payouts for Influencers
Online Marketplaces & Influencer Marketing
An online marketplace is an e-commerce website where products or services are provided by multiple parties. In general, there are three types of online marketplaces. The first type is business-to-business (B2B) marketplaces. Using this platform, online businesses, for example vendors, sell products to other businesses. The most common e-commerce type is a business-to-customer (B2C) marketplace. This is where a business sells a product to an individual, think online shopping. The last type of marketplace is client-to-client (C2C). Through this marketplace, individuals are directly connected online to exchange products or services. 
Most marketplaces today utilize influencer marketing – It has become a popular strategy for marketplaces looking to reach younger audiences on social media. By partnering with social media influencers and content creators, fintech companies can tap into their followers' trust and influence to promote their services.
What are influencer platforms?
Before we define an influencer platform, it is important to understand the role of an influencer. Influencers are a form of social media marketing involving endorsements and product placements from outside entities. For example, have you ever seen a celebrity modeling a product on Instagram or a similar social media platform? That's a form of influencing! Influencer platforms make life easier for both agencies and brands as they manage and work with influencers. They are an online solution to help assist with influencer marketing. Each platform is different, but some common resources they provide are discovery tools, databases of influencers, and campaign management. These platforms profit by creating contracts that give them a small percentage of what influencers make from their posts. Additionally, they act as an intermediary between influencers and their sponsors while also taking a fee from these interactions. 
Payment challenges for influencer platforms
Influencer platforms collect and payout influencers in a variety of ways. However, most of the time, they collect payments from sponsoring companies, brands or individuals either via wire or credit card and then payout their influencer community. Right now, many influencer platforms use expensive and slow payment processors. This not only hurts the profits of the influencer platforms, but also the influencers' experience and bottom line as they get a smaller overall percentage of their income. At borderless, we strive to optimize these payments against other systems giving Influencer Platforms a competitive advantage for their global payouts.  
How borderless works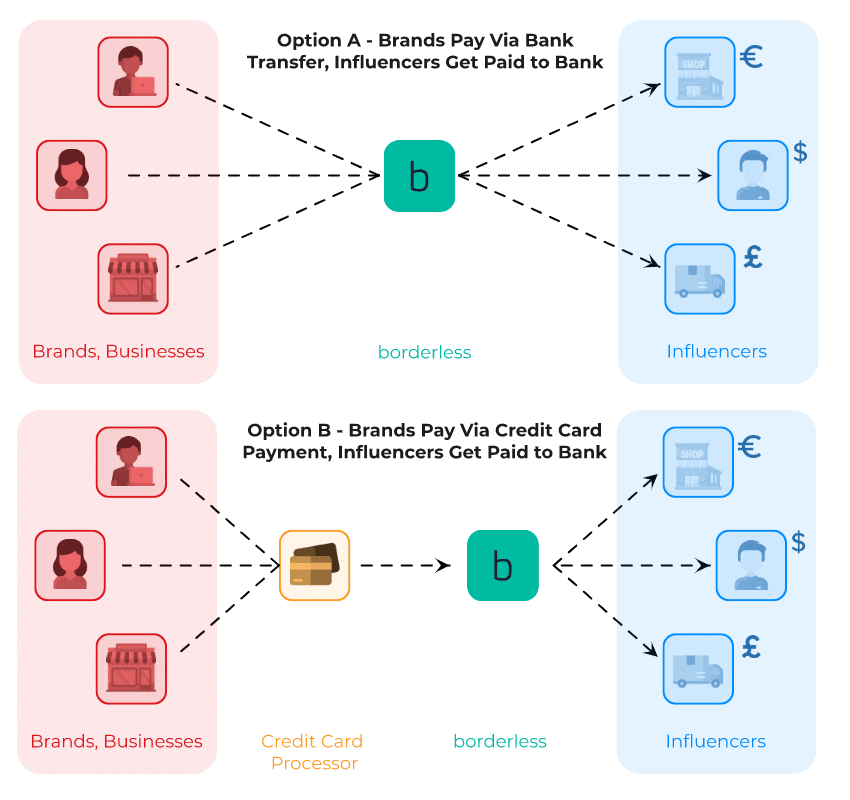 Below is an example of how borderless works to improve payments for influencer platforms.
COLLECT PAYMENT FROM BRAND

Firstly, the influencer platforms receive payments from sponsoring brands and businesses. These payments come in the form of a bank transfer or payment via credit card:

OPTION A – If brands are paying via wire, they can pay directly into the borderless balance efficiently at a low cost through borderless' user-friendly platform. borderless issues bank details for each Influencer platform in 35+ currencies where you can collect in local currency. A borderless business account allows you to hold over 35 currencies simultaneously which can later be exchanged at low FX rates or used to payout influencers.
OPTION B – If brands pay via credit card, then the influencer platform is using a credit card processor. Once the card is charged, the funds are placed in the business's merchant account held by the credit card processor. The influencer platform transfers the funds to the borderless balance. There the influencer platform can hold funds in their balance as Escrow. At borderless, we allow integration with thousands of credit card collection services such as Stripe, Square, Adyen and more so that your payments can be easily managed. Read more about this integration here. 


GET INFLUENCER PAYOUT DETAILS

borderless payments can be made through bank accounts, @handles, or even email addresses so you don't have to collect sensitive banking information. Influencer payments can go directly to their bank account and will be in their native currency 

Before paying out the freelancer, you can either collect their banking information or leverage borderless' Link system or @handle or Pay To Email option. As influencers are used to @handles, they can sign up to borderless separately, create their own @handle (probably the same handle as their Twitter or Instagram account to match) and provide that to the influencer platform for payouts. The same can be done if they only share their email address. When using @handles and emails, you'll never have to collect sensitive banking information limiting your data liability.


PAYOUT

Now that the influencer campaign is complete, you need to pay out the freelancer. Payout time! That's where borderless shines and save you money. borderless handles global payouts with maximum efficiency saving time and money. The influencer platform can then issue a payment to the influencer where funds will be deposited straight to their bank account (minus the influencer platform's cut).
Our simple platform allows worldwide compliance, payouts to 120+ countries, white labeling, and more. To learn even more about payments as an influencer platform, click here. 
The Bottom Line
borderless is the payment solution that saves both time and money for online connectors and influencers. We offer ideal and flexible pricing, security with real-time payments, and efficiency using our platform. To learn more, schedule a demo, contact our team, or create an account today!