6 MINUTE READ
In the real estate industry, it is common for landlords to accept rent payments with peer-to-peer (P2P) payments services like Venmo or Zelle. However, there are several drawbacks to collecting rent payments this way.

Update, July 20th: Venmo introduced new fees, and you're not going to like them. See section 3 of this article.

Why Many Landlords Accept Payments Via Venmo or Zelle
The majority of rent payments are still made via physical currency, ie by check and cash: 42% of payments are made with check and 22% are made with cash.
However, as technology has advanced, landlords have increasingly turned to online payment methods like Venmo and Zelle.
For those who aren't familiar, Venmo is a PayPal-owned app for P2P transactions, commonly used between friends and families to transfer money on their phones.
Zelle is a similar app that allows for P2P transactions. A key difference between the two is that Zelle is a gateway service, allowing you to send and receive, but not hold, funds. In other words, when using Zelle to collect payments, the payments are transferred directly to your bank account.
There are two reasons why landlords have turned to these services:
First, these payment methods are instant or extremely fast. Tenants can make a payment on the app, and landlords will receive the payment instantly or, at most, within one business day.
Second, Venmo and Zelle require little effort to collect payments, and they are convenient for tenants. No party involved has to go to the bank or do any manual work.
However, there are several drawbacks to using these services that make them a bad solution for landlords to accept rent payments.

5 Reasons Not to Accept Rent Payments With Venmo or Zelle

1. Legality/Terms of Use
If you are using Venmo to accept payments for a business transaction such as leasing a property to a tenant, you need to be aware of the rules that apply to business transactions.
You must use a business account for this purpose, which comes with additional fees (see Fees Section below). If you try to bypass this by simply using a personal account, you are in direct violation of Venmo's User Agreement, which states the following:
"Venmo may not otherwise be used to receive business, commercial or merchant transactions, meaning you CANNOT use Venmo to accept payment from (or send payment to) another user for a good or service."
Businesses can use Zelle to accept payments, but there may also be fees that apply, depending on the business' financial institution that is paired with the Zelle account.
Another key legal issue with using Venmo or Zelle has to do with partial payment and eviction. Suppose there is a tenant who is consistently late for their payments, and you, as the landlord, wish to evict them for nonpayment. The tenant can Venmo or Zelle you a small amount of money, like $1, and the funds are automatically transferred without allowing you to accept or reject them. And legally, if you are evicting a tenant for nonpayment, the eviction can be cured or stopped if you accept any payment amount from the tenant.
In other words, using Venmo or Zelle can create a legal loophole that takes away control from landlords and makes it difficult or impossible to evict tenants who aren't holding up their end of the bargain.

2. No Protection for Tenant or Landlord
Services like Venmo and Zelle are consumer-friendly apps designed for P2P transactions. So naturally, in disputes, they take the side of the customer, which in the case of rent payments, is the tenant.
These services do not offer any protections for landlords when transferring funds. By initiating the funds transfer, the tenant authorizes the transaction, making it a valid payment. So if the tenant accidentally sends the money to the wrong person, Venmo or Zelle will not refund the tenant, and the responsibility will fall on the tenant to reach out to the person and try to get their money back.
This can lead to a dispute between the landlord and the tenant, because if a tenant makes an incorrect payment, they may think that they paid on time, but the landlord did not receive the payment on time, and conflict ensues.
Specifically, Venmo is infamous for not offering protection against making a payment to the wrong person. There is a history of scam and fraud using Venmo, and they are especially not known for siding with the intended recipient of the payment.

3. New Transaction Fees & Transfer Limits
Venmo and Zelle are free for consumers, but this is not the case for businesses (landlords) anymore. Venmo introduced new fees for transfers categorized as goods and services which are DOUBLE than the borderless fees (See last section of the article)
Venmo users who have identified themselves as a business (landlords) have to pay a 1.9% + 10 cents transfer fee for any money sent to them. Starting on July 20th, all users will have to pay this fee when receiving money for goods or services, whether or not their account is identified as a business.
This is similar to the way that PayPal transfers work. Of course, it is an honor's system but the downside is that any transfer without the fee will miss out on purchase protection (See section 1 and 2 above).
In addition, instant transfers from Venmo to bank accounts will be charged a 1.5% fee starting August 2nd, with a minimum of 25 cents and a maximum of $15.
When using a Venmo business account, collecting a credit card payment incurs a 2.9% fee plus $0.30. These fees are just as expensive for businesses as credit card processing fees, which range from 2.87% to 4.35%, on average.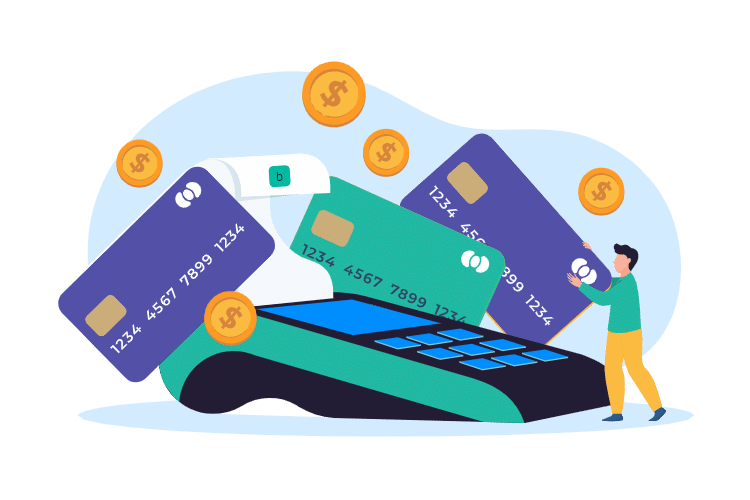 Zelle is a little more complicated than Venmo. Since Zelle is a payment gateway service that transfers money directly to the recipient's bank account, the fees for each business transaction depend on the financial institution (i.e. a bank) that the business uses.
Each member bank has a lot of control over how to offer the service and how much to charge for the service. For example, Bank of America does not charge businesses any money to send or receive payments using a Zelle business account. But US Bank charges 2.5% of the transaction amount, with a $15 maximum or a $0.25 minimum per transaction, for business accounts accepting payments.
Contact your bank or check their website if you are curious about whether they charge a fee for using Zelle as a business.
Since Zelle is just a gateway and not a virtual wallet, there are no limits for the amount of money that a landlord can accept with a business account (however, tenants are still limited in how much they can send each day/month).
However, Venmo has limits since it has an intermediary account where funds are deposited upon receipt of a payment.
While there is no limit to how much money a business account can accept on Venmo, there is a weekly limit of $19,999.99 to transfer funds to your bank account, where it can be used. In addition, the single largest amount you can transfer to your bank account at once is $2,999.99.
So for landlords who have multiple properties, or properties that involve high volume rent payments, although they may accept as much money as they want via Venmo, they will only be able to take out $20k per week. The rest of their money will be stuck in limbo where they cannot access it for their own purposes. It is also inconvenient for them to have to continually transfer each $3k amount whenever they want to move money from their Venmo account to their bank account.

4. No International Reach
Venmo and Zelle were both founded in the United States, and they are both still only available in the United States. There is thus no international reach with these payment methods.

Tenants cannot make payments to landlords who are not located within the US, which means if you own property in a different country, you cannot use Venmo or Zelle to accept these international payments.
Also, international tenants who may be renting a property in the US would not be able to make payments using these apps to the landlord.

5. Lack of Automation for Recurring Payments
Venmo and Zelle are not able to be automated for recurring payments. If you have a fixed payment, like rent, that is paid out every month or week or on another set schedule, tenants have to manually make the payment each instance.
This is inconvenient for landlords because they have to waste time reminding their tenants to make payments instead of simply accepting payments that automatically are made on a set interval.
Moreover, even with business accounts, Venmo and Zelle do not offer a simple and automated reminder system. You get one chance to remind someone to make a payment after you send them a payment request, and you have to manually send this reminder yourself.

A Better Solution: Rent with borderless™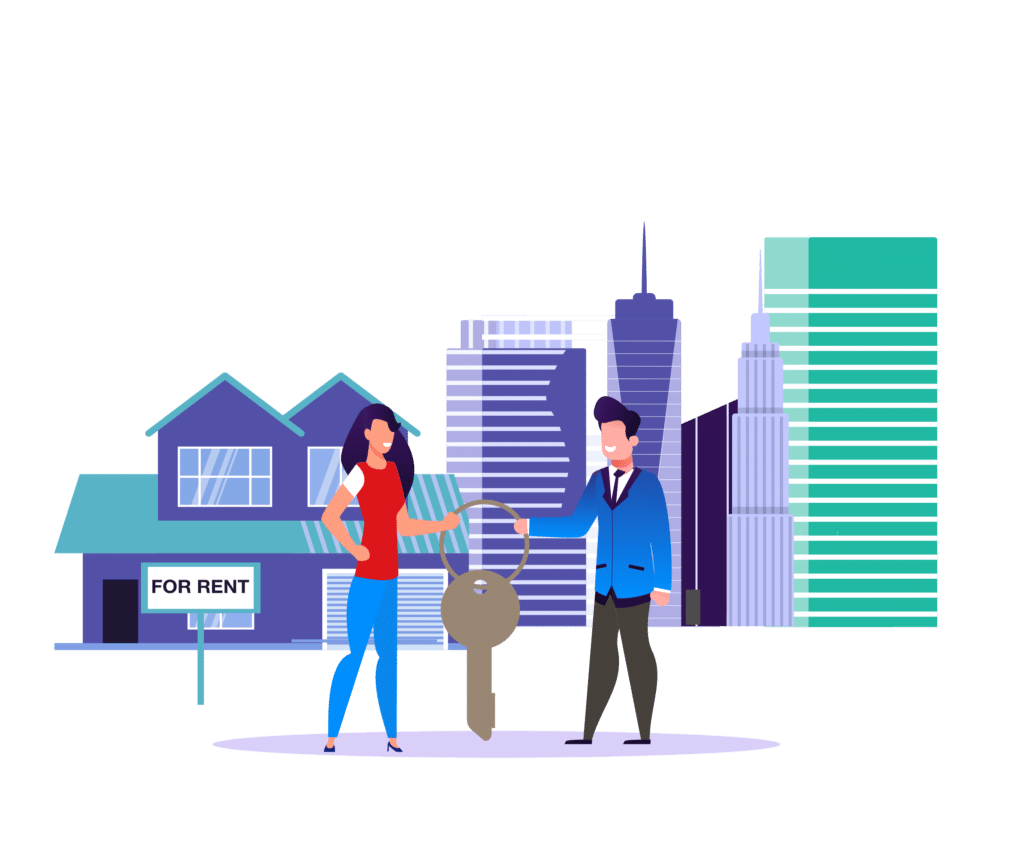 borderless™ is the ultimate payments solution for the real estate industry, especially for landlords accepting rent payments.
We are an online bank payment processor that processes bank to bank payments. We are built on direct debit, a pull payment method. We facilitate direct transfer of money between bank accounts with no intermediaries or holding accounts.
As a direct debit platform, borderless™ transfers money quickly, efficiently, and securely, and avoids the 5 pitfalls of Venmo and Zelle when it comes to landlords accepting online payments for rent:

4 Reasons Why borderless™ is Better for Rent Payments

borderless™ is built for businesses
Zelle and Venmo were designed and marketed as P2P payment services, and that is still their focus today. In contrast, borderless™ is designed to facilitate the payments process for businesses (like landlords who are accepting individual payments). There are no loopholes in our Terms of Service that reveal extra hidden fees as Venmo does.
In addition, borderless™ is a secure platform that uses bank-grade security to keep sensitive banking information private and safe. In the event of a dispute, borderless™ offers free full and partial refunds so that customers can easily resolve any issue with the landlord.

Affordable Pricing & No Hidden Fees
Compared to Venmo's high processing fees for business accounts and Zelle's dynamic fees depending on a business' associated financial institution, borderless™' pricing is affordable and simple.
There are no setup fees, no monthly fees, and no hidden fees. Making payments is always free, so your tenants will love it. For landlords, you only pay when you get paid, and rates start at 1% + $0.30 for local transactions, with a capped fee of $50, saving you money compared to Venmo or Zelle.
For commercial space, such as offices or stores, our rates are 0.1% capped at $15 USD. Where for a rent of $5,000, your processing fee is $5. For our latest pricing, please see our pricing page.

Accept Payments from Around the World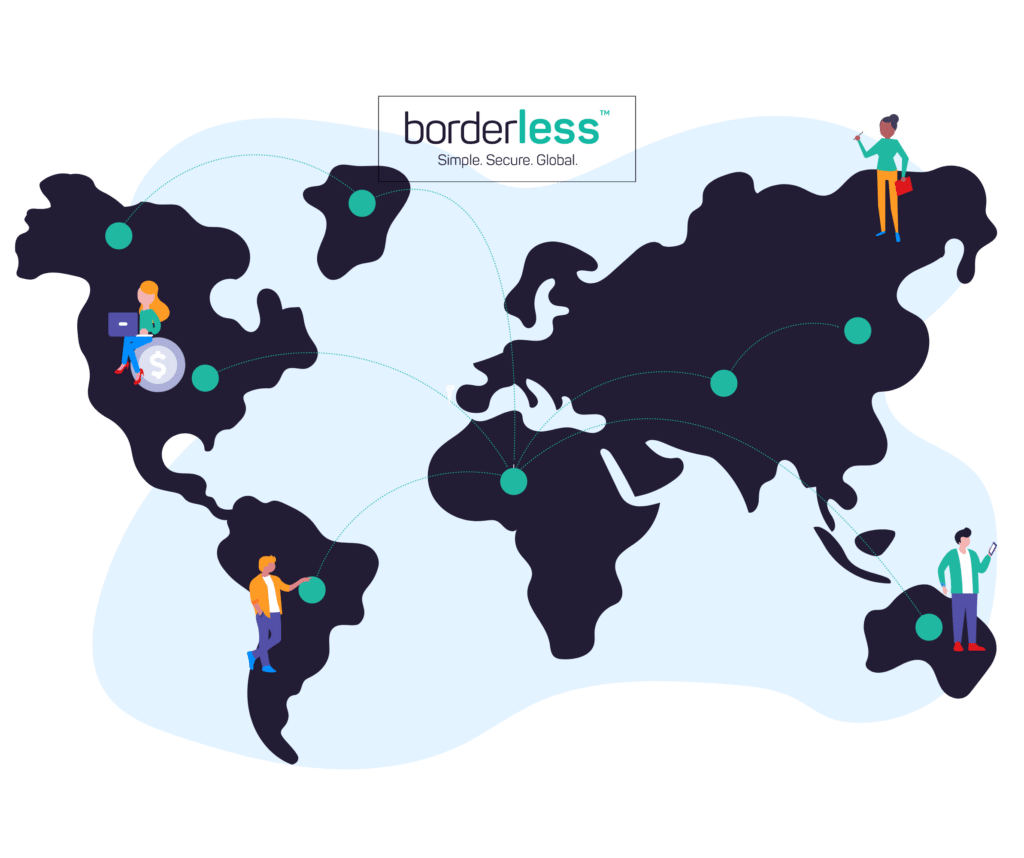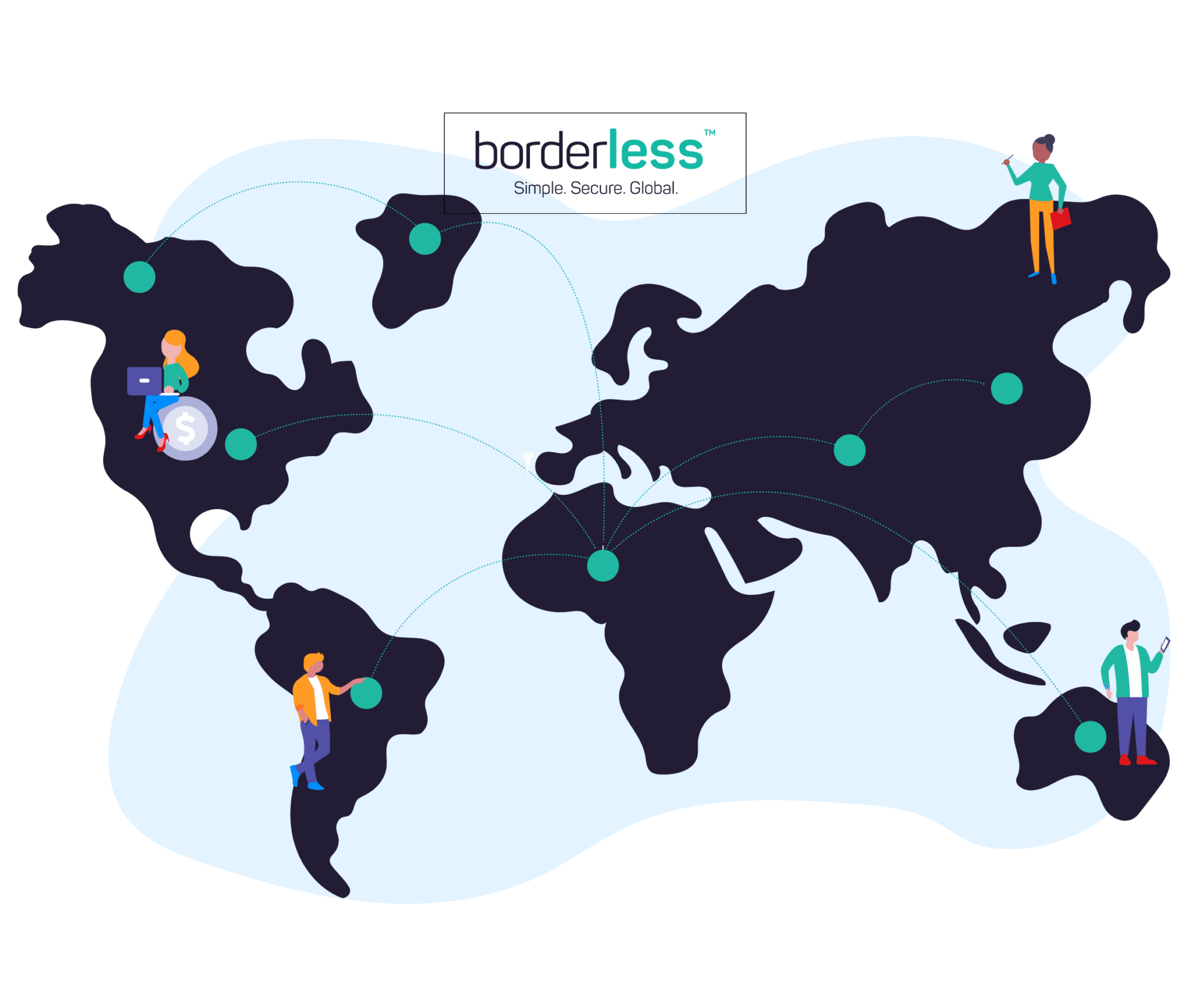 Unlike Venmo and Zelle, which are limited to the United States, borderless™ is available in the US, Canada, and Australia, and plans to expand to 26 additional countries in 2021.
This allows landlords who own properties in other countries to accept payments from tenants who are living there, using our affordable pricing and our mid-market exchange rates, and avoiding the opaque and complex payment method of wire transfer.
borderless™ also thus accommodates international tenants who are not able to make payments using Venmo or Zelle.

Accept Recurring Payments and Automate Reminders
borderless™ allows you to set up recurring payments so you do not have to continually remind your tenants to pay rent each month. Instead, you can easily set up a monthly payment subscription and let us take care of the rest. Think of it as Netflix except it is rent payments.
In addition to recurring payments, which Venmo and Zelle cannot offer, borderless™ enables you to set up automated reminders so that landlords can avoid the hassle of having to manually remind tenants to make payments.

Get Your First $10,000 Processing For Free

If you are a landlord or a business owner in the real estate industry, you can get your first $10,000 in rent payments with no processing fees in the first 30 days. Contact our team to book a demo to learn more.
For more information about why borderless™ is the ideal payments solution for the Real Estate industry, check out our website's new industry page!