In today's fast-paced digital economy, embedded payments have emerged as a powerful force, revolutionizing the way businesses and consumers transact. As the boundaries between finance and other industries blur, embedded finance continues to reshape the payment landscape, offering seamless and efficient payment experiences. In this blog post, we will explore the future of embedded payments, the rise of new trends, and the opportunities they present. We will also delve into the role of borderless as a leading provider of global payout solutions and its innovative Payout API. To learn more about borderless and its payment hub, please read What is a Payment Hub? Streamline Your Payouts.
The Rise of Embedded Finance and Market Potential:
By 2030, embedded finance is projected to generate $440 billion in annual revenue, according to BCG. This represents a significant growth potential, with revenues estimated to be 5 to 11 times higher depending on the segment. As traditional banks face challenges such as the deposit drought and high interest rates, embedded finance offers a solution for survival and growth. The industry is witnessing a surge in interest and major moves, with notable examples including Fifth Third's acquisition of a BaaS provider, Stripe launching a charge card product, and rumors about FIS potentially acquiring BaaS platform Bond. Natwest, one of the UK's largest banks, has quietly formed a JV with a BaaS provider that is gaining traction.
Evolution and Expansion of Embedded Finance:
Embedded finance has evolved from primarily debit card-based services to encompass multiple payment rails and infrastructures. It has shifted from being dominated by small providers to becoming a level playing field for incumbents and smaller players. This transformation extends beyond native digital businesses and enters the analog world, with examples such as fleet cards. Embedded finance now encompasses a wide range of financial products, including investing, deposits, and lending.
The Growing Importance of Embedded Payments:
Embedded payments have witnessed a remarkable growth trajectory, driven by the increasing demand for frictionless transactions. As businesses seek to integrate payment capabilities seamlessly within their digital experiences, the concept of embedded finance has become a game-changer. From traditional financial institutions to digital marketplaces, everyone wants a piece of the action.
Multi-Rail Solutions and New Use Cases
One of the key trends in embedded payments is the shift towards multi-rail solutions. Historically, collecting and making payments heavily relied on cards. However, the landscape is evolving rapidly, allowing businesses to accept various payment methods through different rails. This expansion unlocks new payment flows and use cases, especially in the context of marketplaces. With Borderless' global payout solutions and Payout API, businesses can streamline their payout processes, facilitate cross-border transactions, and cater to the demands of a global customer base.
Payouts as a Competitive Battleground
As the embedded finance ecosystem matures, payouts have emerged as a critical area of focus. Businesses face the challenge of managing complex payout processes efficiently. From marketplace sellers to gig economy workers, ensuring timely and secure payouts is vital. borderless understands these pain points and offers a comprehensive payout solution that simplifies cross-border payments, reduces fees, and enhances the overall payout experience.
borderless: Empowering Businesses with Innovative Payout Solutions
borderless is at the forefront of the embedded finance revolution, acting as an industry expert in global payouts. With their advanced Payout API, businesses can seamlessly integrate borderless' payout infrastructure into their existing systems, unlocking a world of possibilities. Whether it's facilitating payments to international sellers on a marketplace or disbursing earnings to gig workers worldwide, borderless provides a secure and efficient solution.
The Advantages of borderless Payments
By leveraging borderless' expertise in global payouts, businesses can gain a competitive edge in the market. With borderless' Payout API, businesses can easily navigate the complexities of cross-border transactions, reduce costs associated with traditional banking methods, and provide a superior payment experience to their customers. borderless also provides a powerful payout API with flexible payout options such as payout to cards like VISA and MasterCard, payout to wallets such as PayPal and local bank accounts. borderless empowers businesses to scale globally, expanding their reach and driving revenue growth.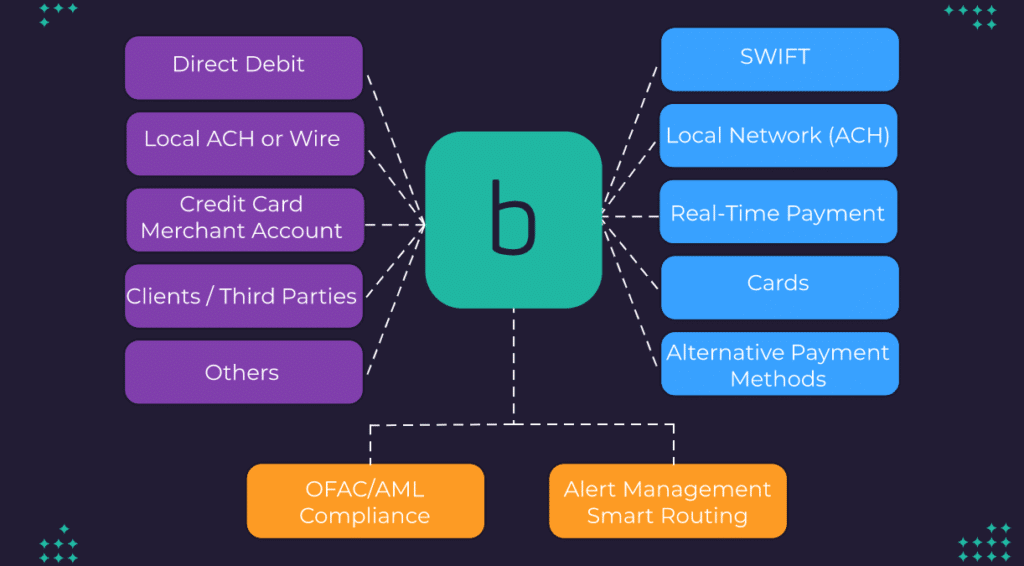 Conclusion:
The future of embedded payments is bright, driven by the rise of multi-rail solutions, evolving use cases, and the need for seamless transactions in an interconnected world. As businesses embrace embedded finance, the role of Borderless as a leading provider of global payout solutions becomes increasingly important. With their innovative Payout API, businesses can tap into the power of embedded payments, streamline cross-border transactions, and stay ahead in the rapidly evolving digital economy.
Experience the future of payments with borderless and unlock the potential of embedded finance today.
#EmbeddedPayments #EmbeddedFinance #MarketplacePayments #GlobalPayout #PayoutAPI #BorderlessPayments #Fintech #DigitalPayments
About borderless
borderless, a global payments company that provides a payout software and API to companies to process payments to 120+ countries. borderless specializes in cross-border payments, and their platform utilizes local payment rails, real-time payment rails, and SWIFT to facilitate faster and more efficient payments. To learn more, contact our team to schedule a demo today.