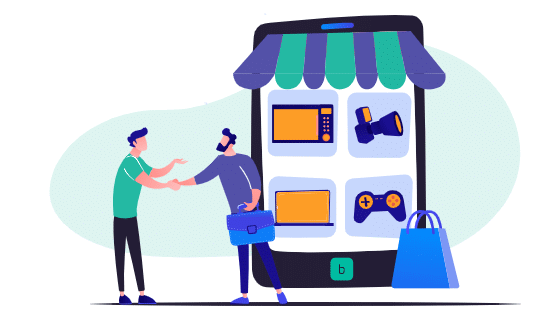 Interested in starting an online marketplace or expanding your existing one? Read on to find out how it's changing the job market, pros and cons of joining one for a freelancer/creator and what practices you can start adopting right now to capture an audience and increase conversion.
So what is an online Marketplace?
An online marketplace is an e-commerce platform that connects buyers with sellers. All transactions on the platform are managed by a website owner. Sellers use these platforms to connect with buyers who want to use or buy their products. Some common examples of well known marketplaces are Amazon, Etsy and Fiverr.
Since 2014, online marketplaces have become abundant. As of 2021, there are over 100 million online marketplaces. Some marketplace platforms offer a wide variety of general interest products that will fulfill most of the needs of their consumers while other platforms have smaller offerings of a niche product or service.
Why is it booming?
While online shopping practices were becoming more popular to consumers, COVID-19 has really pushed things along rapidly. At the start of quarantine, buyers were forced to purchase certain goods via online only as demands for the product ran low in stores and the stay at home order was in place. With the evolution of online marketplaces the shopping experience has changed from just using one company's website and one product to having a vast variety of options to shop from all in one place.
Now that in person retailers are opening back up, shouldn't the use of these online marketplaces decrease? Online marketplaces are just getting started. Shopping online opened the gateway for so many more opportunities than most of us have ever thought of using this type of platform. Online shopping brings the ease of comparing competitors right at our fingertips. Studies have shown that buyers are likely to vet out both the big name companies against the individually own and if close in comparison they would rather support local businesses.
With Gen Z becoming a big consumer in the years to come, marketing strategies will have to pivot to make sure they incorporate them. A study by Oxford Economics and reported by Bloomberg projects that Gen Z's future earnings will reach $2 trillion by 2030. Social media is a huge contributor here. In 2020, 72% of Gen Z said they'd more likely buy from a brand if they're following them on social media. This is a new form of marketing that allows the buyer and seller to connect on a much more intimate level. You can follow along in the life of a business or individual's page, keeping up with their stories and new products or launches.
Unlike the past generations, Gen Z seems to shift their focus away from choosing the cheapest options to considering how spending my money here will impact both myself and the business? They'll ask questions such as; What value does this business bring? Do you respect your employees?  How does this business impact the community? What social injustices do you stand for?  Who am I supporting by buying from this company? 
Businesses will have to make a shift and become dynamic when trying to attract this younger crowd of buyers. These marketplaces allow for the buyer and seller to have a relationship that didn't exist before. We now have the opportunity to see a backstory of how this small business got started, what community they belong to and who our money is going to. If that story resonates with the buyer, they are more likely to support them.
Companies have taken that one dimension or vertical platform that consumers were so used to and transformed it into a business. They now host and provide niche services to cater to a buyer. We have marketplaces that now provide tutor services to students, rentals to travelers, shoppers to personal stylists and the list goes on and on.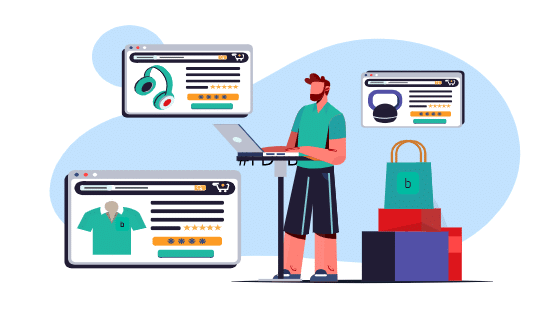 Gig Economy On The Rise
Not only are these marketplaces providing new services to consumers, they are also providing a new form of employment that many people in those new remote worlds are taking advantage of. The buyer side has become more online focused to shop for goods and services and the seller side has become more abundant for people to become freelancers or start their own businesses. It's easier to do so on marketplaces to test their products and ideas before doing a fully fleshed business. We are starting to see workers ditching their traditional "9-5s" and utilizing this platform to turn their side hustle into their full time job. The best part about it is most of them can do it anywhere in the world (as long as there's wifi of course).
One major advantage these businesses now have working on this type of platform is the use of its technology. A business can now track all activity on their page. They'll be able to track things such as site visits, pages clicked, orders, and revenue. This gives a unique insight into their buyers persona that a traditional retail business might not have.
Pros and Cons:
Thinking about joining a marketplace to earn some extra cash or a side hustle? Check out our pros and cons list below:
Pros:
Provides additional channels to market/sell your goods
Opportunity for overseas sales
Transparency of other sellers on the platform (compare rates/products)
Cons:
Marketplaces can charge commission on every sale and fees can vary from site to site
Specific guidelines/processes that might not be in favor to a seller
Marketplaces can sometimes control how and when you get paid
While there seems to be many upsides to utilizing these marketplaces, it's also good to be aware of how the platforms operate, which processes they follow and ultimately how you will get paid. After all, making profit is hopefully everyone's goal. Some of these platforms use payment processes that are not the most seller friendly i.e. long wait times for payments, no payment tracking, high FX rates and commission fees. It's important to be aware of which platform they'll use for payouts to their sellers.
borderless is a global payments company that takes the hassle out of these headaches. borderless has an API enabling payouts to 100+ countries using local bank transfers in local currency and offers real time tracking on payments to know exactly where your money is and when you'll receive it.
What's next for Marketplaces?
As 2021 comes to a close, we are curious to see how our virtual world will keep expanding into these marketplaces in the upcoming year. If these past few months have taught us anything, it's that people will always be looking for new and innovative ways to use technology to their advantage.
Tune in next week to see trending jobs in and outside of the online marketplace along with up and coming predictions for marketplaces in 2022. Will getting your business started on a marketplace be apart of your New Year's Resolution?
---
Want to learn more about borderless? Create your borderless™ account today and start saving on payment processing fees using code GETSTARTED21, or contact a member of our team to experience a demo or if you have any questions!