3 MINUTE READ
Learn more about our latest groups feature, and how you can use it to make multiple international and local payments in one go. Pay suppliers or team members all over the world in just a few simple steps.

What are Contacts?
Contacts are individual or businesses who are added to your account as a contact for simple payouts. These contacts can be either borderless™ users or non-borderless™ users. 

Adding borderless™ Contacts Via QuickSearch
Our new QuickSearch feature allows you to add contacts using their PayMe™ @handle by searching all the users on the borderless™ network.
Similar to common P2P payment solutions, the PayMe™ @handle allows you to find and add contacts easily and quickly.

Adding non-borderless™ Contacts Manually
In addition to the QuickSearch feature, you can also add contacts manually.
To manually add a contact enter the banking information (account number, routing number, etc.) of the business and make a direct bank payment to their bank account without them needing to sign up for a borderless™ account.
Unlike our Claim Payments feature, the recipient does not need to log in and create a borderless™ account to accept or "claim" the funds. The payment is directly deposited into their bank account.
As with all other borderless™ payments, the payor can opt to pay the processing fee for these manual payments.

What is the Groups Feature?
Our Groups feature allows you to add multiple contacts under one group to execute multiple payments at one time within the borderless™ platform. 

Benefits of Group Payments

More Efficient Payment Process
Instead of having to pay your suppliers or contractors separately or uploading a CSV file, you can now use our simple UI to make mass payments with borderless™.

Flexibility For Each Payment Cycle
The majority of contractor or supplier payments differ from month to month. We made it super easy to add a differing payment amounts, and add or remove contacts from each payment cycle without changing the group structure. You can also opt to pay the fees with a simple check box.
Smart Error Handling
We all make mistakes like misspelling an account handle or forgetting a purpose of payment. The borderless™ system will warn you ahead of time of any errors and when payments fail, we never process them and notify you of the reason. This avoids failed payments and confusion for all parties involved.

How it Works
The Groups feature is very simple to use. It takes just a few steps to create a group and make multiple payments to borderless™ contacts in one go.

Step 1: Create Group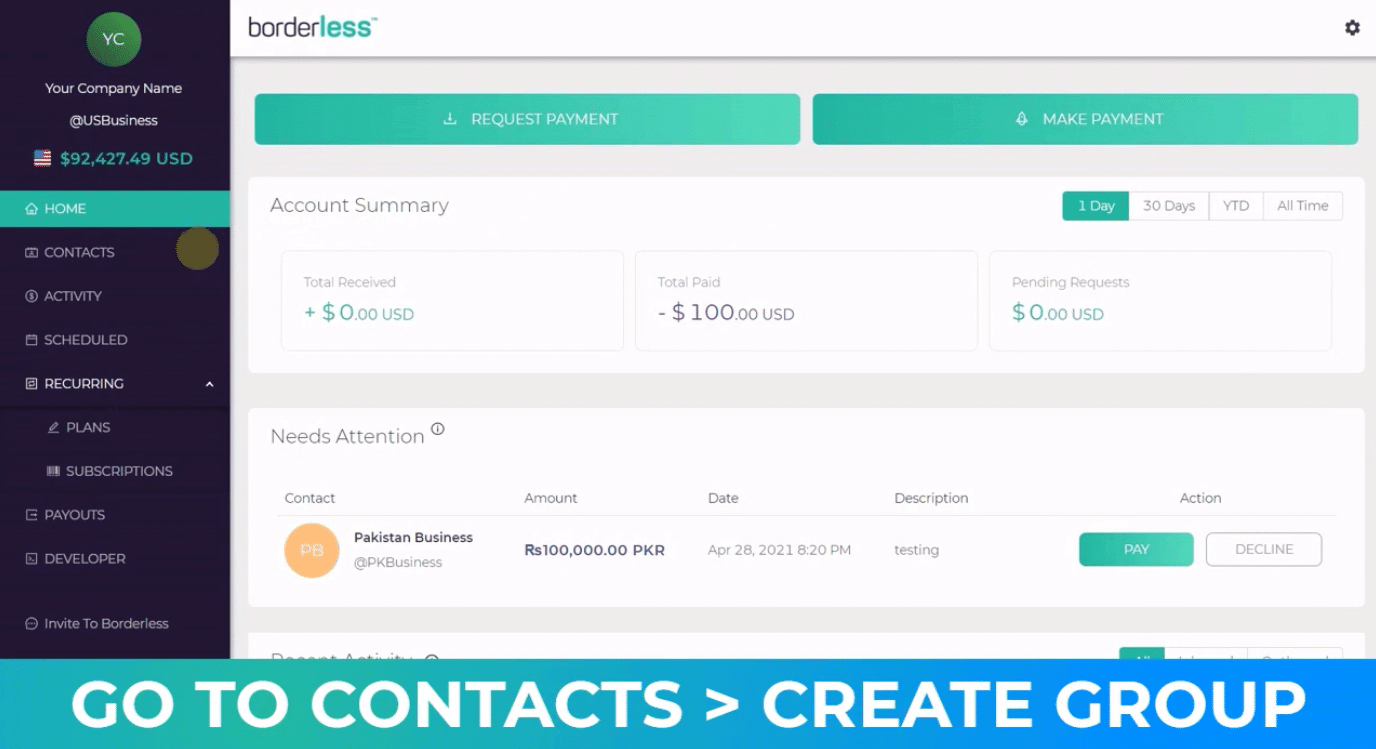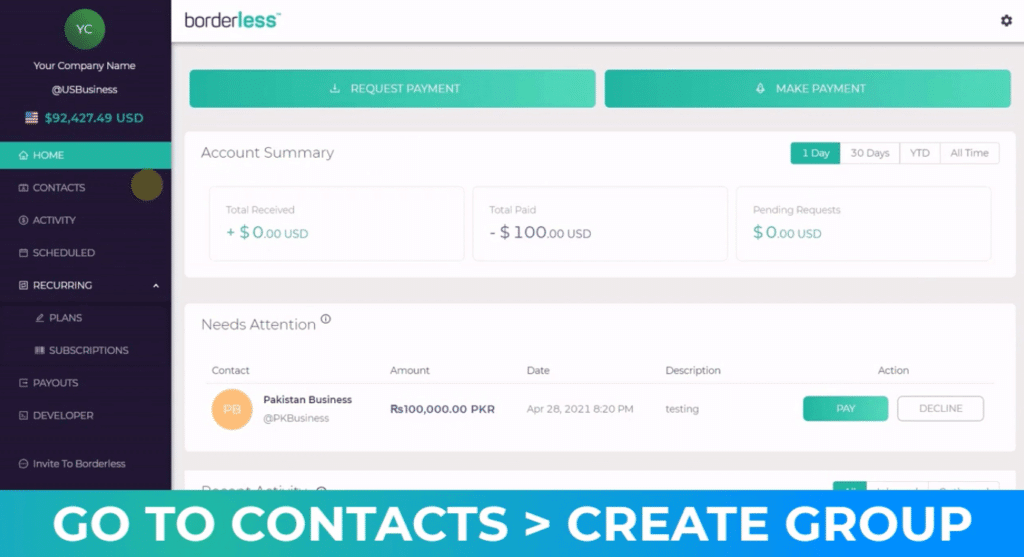 First you will go to your Contacts page and click "Create Group." You will be prompted to add the contacts that you wish to be part of that group, called participants. We display your contacts, or you can use the search bar. Just click on the contact and they will be added as participants. You can remove participants by clicking on the "x" button.
After selecting your participants, click next and name your group. Once finished, click "create." You have now created your first group! Contacts are not notified as this is an internal group for your own organization.
You have the option to edit, delete, or pay a group. You can delete or edit a group name, and delete or edit group participants at any time.

Step 2: Enter Payment Details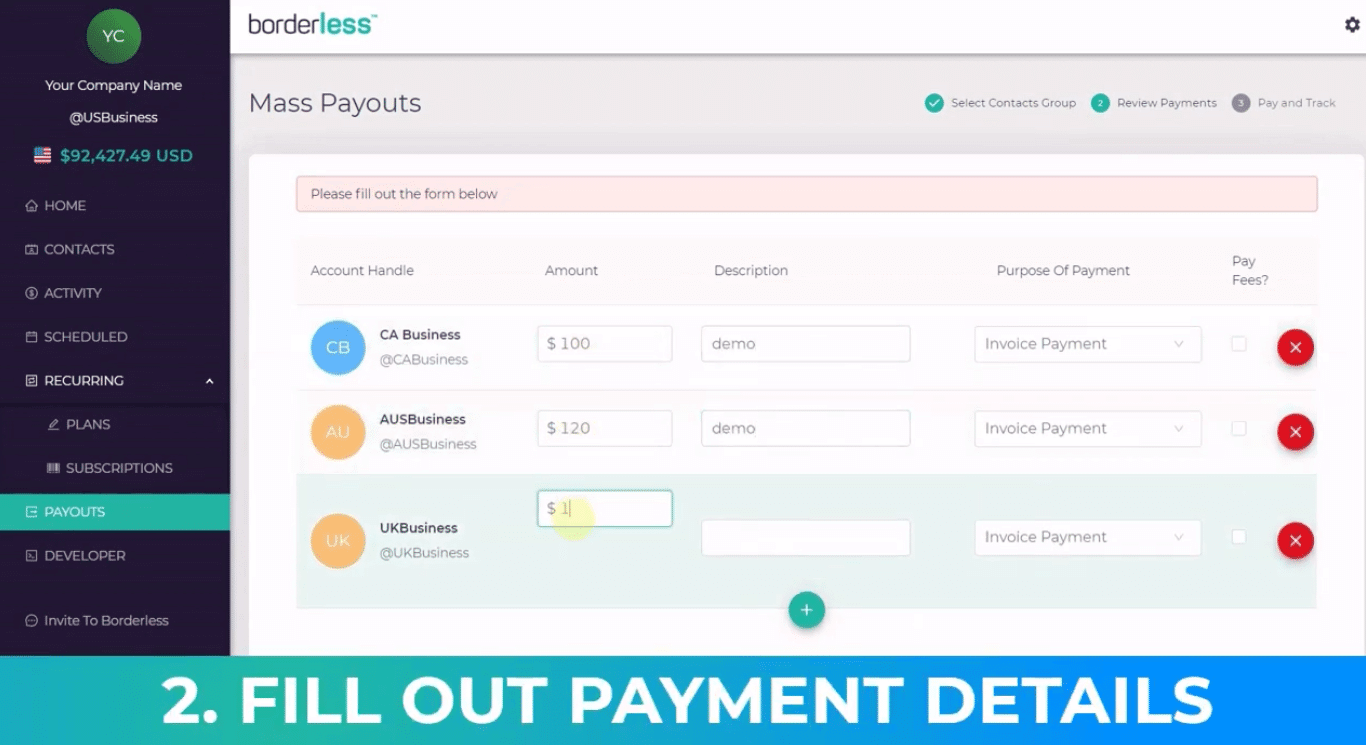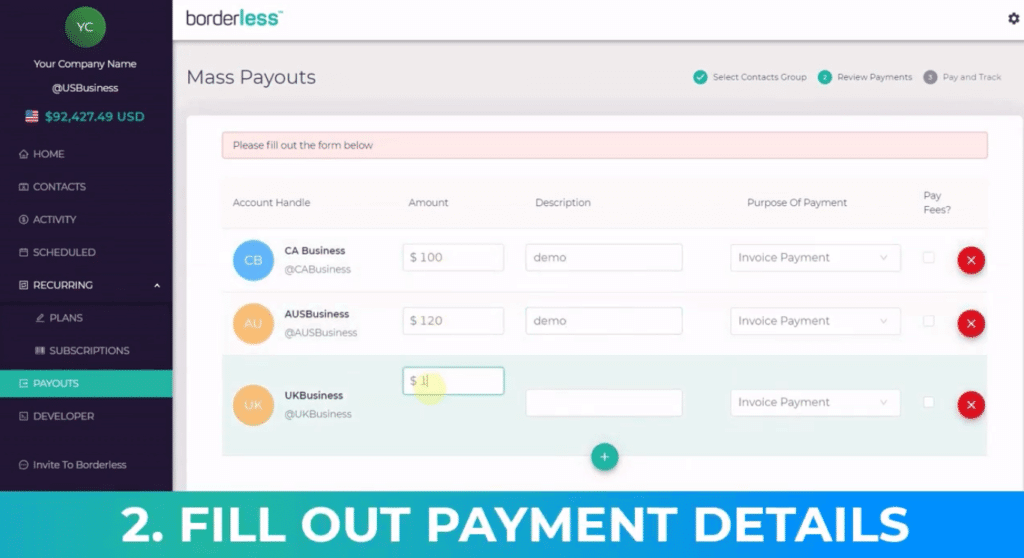 Fill out the table. You can remove participants for certain payouts if you are not looking to pay them this time around, or you can add participants by adding a new row and entering their handle. Enter the payment amount, a description of the payment, the purpose of payment, and check the box to opt to pay the fees. We are able to provide flexibility for all your contractor or supplier payments.

Step 3: Pay Your Team In Seconds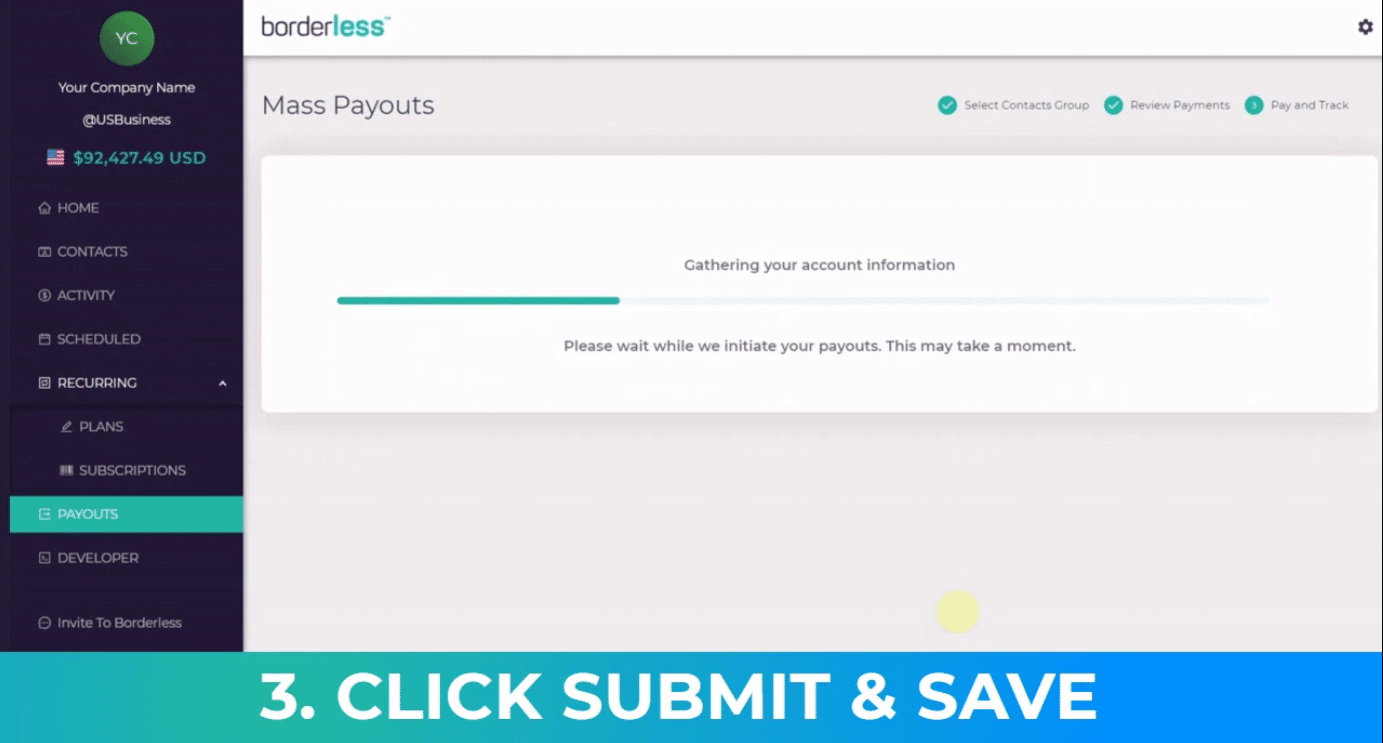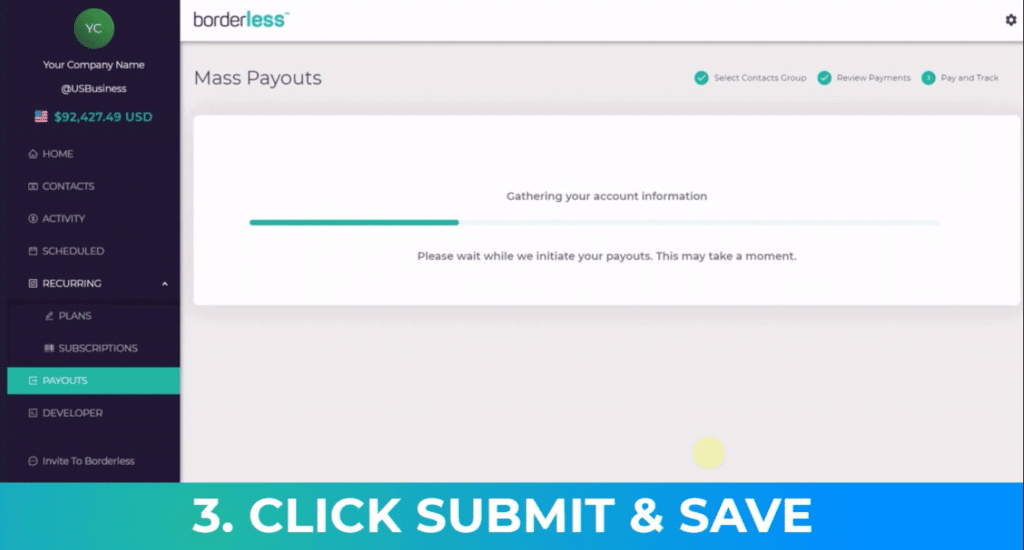 After filling out the table, click submit and let us do the heavy lifting. You can now pay your team in one go, saving time and money. Upon payment success, you will be provided with a summary screen. To get further information for each payment, just visit your home dashboard or activity page to see additional details.
It's that easy! Start making simple, secure, and affordable payments to your remote team, contractors, suppliers and more.
We hope you enjoy our Contacts and Groups feature where you can pay your team in one click. Let us know your thoughts by submitting your feedback to our support team.

Keep dreaming,
The borderless team
—————————————————————————————————–
Want to switch to a payment solution that allows you to make free payments to more businesses or individuals without hassle?
Create your borderless™ account today and start saving on payment processing fees using code GETSTARTED21, or contact a member of our team to experience a demo or if you have any questions!