3 MINUTE READ
Wondering if accepting payments via ACH/direct debit is right for your business? Read on to find out why direct debit with borderless™ is the payment solution for you and your business to save money & time and avoid the hassle that other payment methods.

What is an ACH Payment?
ACH payments, also known as direct debit payments or e-checks, are a form of payment in which a bank pulls funds from a payer's bank account.
If you are in Canada or Australia or the United Kingdom, ACH is equivalent to EFT, BECS and BACS respectively.

How Does an ACH Work?
The payer must authorize the desired recipient of the funds to collect funds from their bank account, and the funds are then taken (or debited) from the payer's account and transferred to the recipient's bank account.
This process is facilitated through the Automated Clearing House (ACH) network, which is a network to which all major banks in the United States are connected—this is the namesake of ACH payments.

Benefits of ACH Payments
There are several benefits of using ACH as your business' payment method that should factor into a business' decision.

Transfer Speed
ACH payments take just 2-3 business days to process. This is faster than credit cards, which take 3-5 days, and wire transfers, which can take anywhere from 2-10+ days for international transactions. If your business wants to take control of its cash flow and have more liquidity and peace of mind, then direct debit is the solution for you.

Cost
Since ACH is a direct bank-to-bank payment method, it is much cheaper than credit cards or wire transfers. Whereas credit card processing fees can range from 2.7%-4.4% per transaction and wire transfers can cost up to $43 to send internationally, ACH payments are often just 1-2%.

Convenience and Less Reconciliation Time
If your business handles one-time or recurring payments, direct debit payments are a good alternative payment method for your business to consider.
This applies to not only subscriptions or memberships, like paying for Spotify Premium or having a membership at a local gym, but also for recurring payments with fluctuating amounts based on usage, like utilities or phone bills.
In both scenarios, the customer authorizes the merchant to debit funds from their account on a specified schedule, saving both the customer and the merchant from having to spend time making or requesting payment week after week or month after month.
For a more thorough explanation of the benefits of direct debit and a comparison of direct debit to wire transfers and other payment methods, check out our blog post on direct debit.
The one major consideration for ACH payments is its global reach, or lack thereof. For businesses who accept and make international payments, ACH has not been a viable option. Until now.

Are ACH payments right for my business?
To determine if accepting ACH payments is right for your business, there are several questions you need to answer:
Does a significant proportion of your customers currently pay by paper checks?
Does a significant proportion of your customers currently pay by credit card?
Will you save money compared to credit card fees?
Would you be able to convert your credit-card-using customers to pay by ACH instead?
Do you have or want to establish an automated B2B e-commerce system?
Is your business' cash flow hurting because customers are not paying on time?
Does your business currently take recurring local or international payments?
If you answer 'yes' to any of these questions, your business is likely to benefit from accepting ACH payments.

How borderless™ helps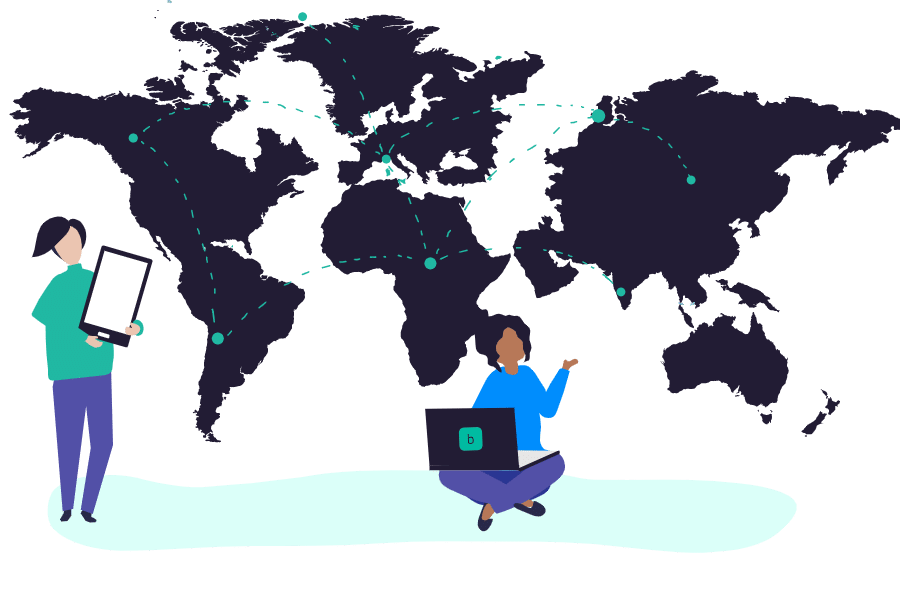 borderless™ has developed a global infrastructure for ACH payments, enabling businesses to accept payments around the world using this fast, reliable, secure, and affordable payment method.
With our capped fees of 1% for local transactions and 2% for international transactions, as well as low, tiered pricing for local B2B transactions, borderless™ provides an affordable way for you to accept payments.
With our efficient payout time of just 2-3 days, as well as real-time payment tracking and a searchable dashboard, you can keep track of your payments and have peace of mind knowing where your funds are at all times.

Overall, we built on all of the benefits of ACH payments and improved upon its limitations in order to create the ultimate payments solution for your business.

Get started today with code GETSTARTED21. No monthly fees. No set up fees. No hassle. Still not convinced? Book a free demo with us here!